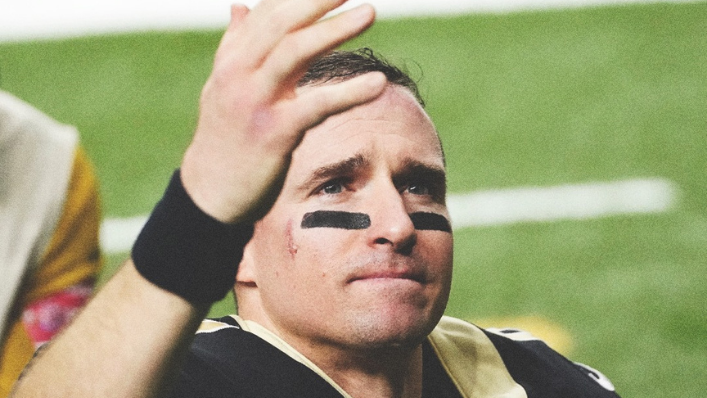 After a 20 years of playing in the NFL, New Orleans Saints quarterback Drew Brees announced Sunday that he's decided to retire.
The 42-year-old let his kids make the announcement for him in a video he shared to Instagram.
Sporting their dad's football jerseys on the couch, Baylen, 12, Bowen, 10, Callen, 8, and Rylen, 6, each had a line in revealing their dad's big announcement.
View this post on Instagram
"After 15 years with the Saints, and 20 years in the NFL, our dad is finally gonna retire," the three boys said in the video before all four kids joined together to shout, "so he can spend more time with us!"
Along with the video, Brees shared a heartfelt message to his fans and everyone who has supported his career over the last two decades.
"After 20 years as a player in the NFL and 15 years as a Saint, it is time I retire from the game of football," he wrote. "Each day, I poured my heart & soul into being your Quarterback. Til the very end, I exhausted myself to give everything I had to the Saints organization, my team, and the great city of New Orleans. We shared some amazing moments together, many of which are emblazoned in our hearts and minds and will forever be a part of us"
He continued, "You have molded me, strengthened me, inspired me, and given me a lifetime of memories. My goal for the last 15 years was striving to give to you everything you had given to me and more. I am only retiring from playing football, I am not retiring from New Orleans. This is not goodbye, rather a new beginning. Now my real life's work begins!"
The 42-year-old quarterback confirmed his retirement on Today Monday morning, and revealed that he will be joining NBC Sports as a studio analyst for Football Night in America, and a game analyst for NBC's coverage of Notre Dame Football.
"I'm part of the team now, a new team," Brees told Today's Hoda Kotb. "I'm excited about that journey. I'm excited to stay very closely connected with the game of football, it's been such an important part of my life.
"I continue to be able to talk about it, show a passion for it, and be able to bring my kids along for the ride there as well, and let them be part of those special moments."
Brees has long been an outspoken Christian in the National Football League. In 2003, Brees and his wife, Brittany, established the Brees Dream Foundation. In the 18 years since, they have contributed over $45,000,000 to help improve the quality of life for cancer patients and provide care, education and opportunities for children and families in need.
This article originally appeared here.