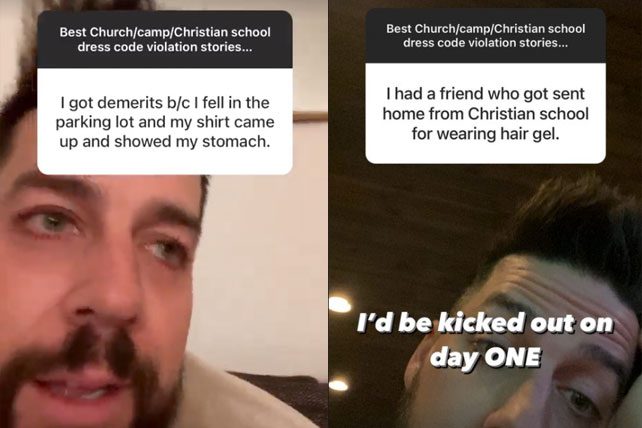 Christian funny man John Crist recently asked his 1.1 million Instagram followers to share their best church, church camp, or Christian school dress code violations.
"I always got in trouble for my haircuts," Crist said. "Those were against the rules. [I also got in trouble for] not having my shirt tucked in."
The comedian later posted as a response to the multitude of "violations" coming in: "Ha!!! I'm DYING at these!! [laughing emoji] Unfortunately these are all 100% true."
One follower shared how they once got in trouble for wearing a "Van Halen 'Running With The Devil' shirt to Wednesday night and played in the praise band." In response, Crist joked, "Okay, I mean that makes sense that you'd get in trouble for that."
Modesty in Christian circles isn't anything new, especially for those who grew up in a conservative church. However, modesty culture has become increasingly controversial. For example, Christian artist Matthew West was heavily criticized this past June when he released a video title "Modest is Hottest." West's video was meant to be satire, poking fun at himself for being an "over-protective dad." Critics of the song called it a damaging message that shames and blames women for men's lust.
Related article: Lecrae Posts Video of Pastor Telling Women It's a Sin to Wear Pants; It Goes Viral
One critic posted on Facebook, "I am disgusted by this song and this 'artist,' and feel horrible for his daughters to have to grow up being told that what they wear defines them and that what they wear is responsible for the actions of the males around them. This is the type of man who claims a women [sic] was 'asking' to be raped because of what she was wearing."
Although Crist used his question for comedic purposes, the joke serves as social commentary on the restrictive dress codes that many church leaders have relied upon.