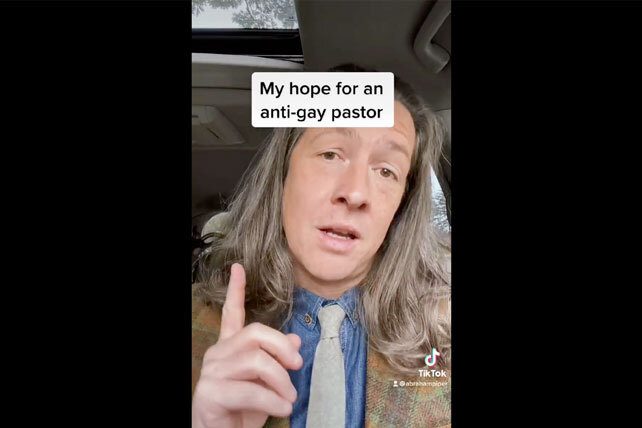 Abraham Piper, popular TikToker and son of famed theologian John Piper, responded to a pastor's tweet about LGBTQ inclusion with a TikTok video, sharing his "hope for an anti-gay pastor." Piper, who is widely known for his deconversion and subsequent criticism of evangelicalism, shared the TikTok video on Twitter in a retweet of the pastor's remarks.
JJ Mannschreck, who is the lead pastor of Flushing United Methodist Church in Flushing, Michigan, originally tweeted, "I'm in a denomination that is fighting over LGBTQ inclusion…and because I fall on the traditional side of that ONE issue…I have to sit at the conservative table in the lunchroom at conferences. But I don't wanna. Cuz.. *points at every other theological issue*"
Mannschreck was referring to the ongoing debate within the United Methodist denomination about whether the denomination should ordain LGBTQ clergy or participate in officiating same-sex marriages.
Mannschreck's Words Criticized
Mannschreck's comments generated considerable discussion, with his words being retweeted over 100 times. While some showed their support, many pushed back.
Some criticized Mannschreck for implying that the LGBTQ community is merely an issue, rather than a group of people. Others criticized him for holding to a traditional understanding of marriage.
RELEVANT Magazine senior editor Tyler Huckabee said, "pastor, with love: if being excluded from certain tables over one 'issue' is painful for you, perhaps this gives you a sense of how our lgbtq brothers and sisters feel." 
Another response read, "It's a sign. The Spirit is inviting you to open your eyes and your mind and your heart just a little bit wider and see all the good fruit growing outside that last wall…"
RELATED: 'It's Not a Church': BLM and Pride Flags Outside a Church Building Spark Debate
Mannschreck replied with a laughing emoji, saying, "Probs not." Mannschreck went on to explain in a later response, "To be clear, this is an issue I have given much thought, prayer and theological discussion…I logged off for the night, but had to come back because it felt like I was being flippant." Indicating that he took the comment as having a joking tone, Mannschreck clarified that he intended "no disrespect."
In a later tweet, Mannschreck responded to criticism of his use of the word "issue" in his original tweet, saying, "I sincerely and humbly apologize for using the word 'issue' … I was referring to items on the agenda being voted on at [the UMC's] General Conference, not human beings. It's not what I meant — but I see how people interpreted it that way, and I am so sorry."