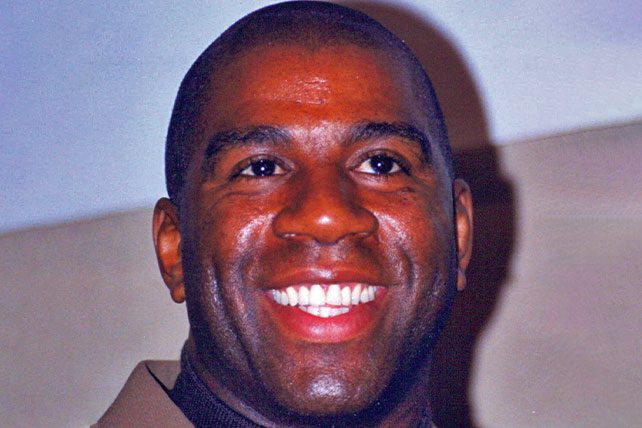 At a shocking press conference on November 7, 1991, NBA legend Earvin "Magic" Johnson revealed he had HIV and was retiring from basketball. Thirty years later, Magic Johnson took to social media to acknowledge and "thank the Lord for keeping me, giving me strength, and guiding me for 62 years but especially the last 30."
Johnson, a Hall of Fame point guard who won five championships with the Los Angeles Lakers, also shared how the experience affected him spiritually. "Through it all I learned to trust in Jesus and I learned to trust in God!" he tweeted Sunday, after noting that the bishop at his church preached a message about "Victory Over Affliction."
Magic Johnson Tackled the Stigma of HIV/AIDS
When Johnson was diagnosed with HIV, he was newly married, and his wife, Cookie, was pregnant. (Neither she nor their son contracted the virus.) In a recent interview with "CBS Mornings," Cookie Johnson recalls advising her husband against going public with his diagnosis. "At that time, people weren't educated," she says. "They thought you couldn't touch people [with HIV], you couldn't hug people. And I didn't want people to treat us like we were lepers."
Magic Johnson, who came out of retirement twice, played on the 1992 U.S. Olympic Dream Team and served as president of basketball operations for the Lakers. Staying active "proved to be the right decision," he says, because it helped people with any disease know they can "live a productive life."
Through a foundation he launched in 1991, the 11-time All-Star works to educate and support urban communities. Johnson also uses his platform to raise awareness of HIV, which can be controlled though not yet cured. The former athlete, whose HIV remains "undetectable," takes a daily cocktail of medication.
Magic Johnson Plays Active Role in COGIC Congregation
For more than 20 years, Magic and Cookie Johnson have attended West Angeles Church of God in Christ (COGIC), which is led by Bishop Charles E. Blake Sr. and has a weekly attendance of 24,000. When Johnson stepped away from the Lakers organization for good in 2019, one reason he cited was wanting to focus on church and community outreach. "It's truly a blessing when you know what direction you're going in," he told Charisma News at the time.