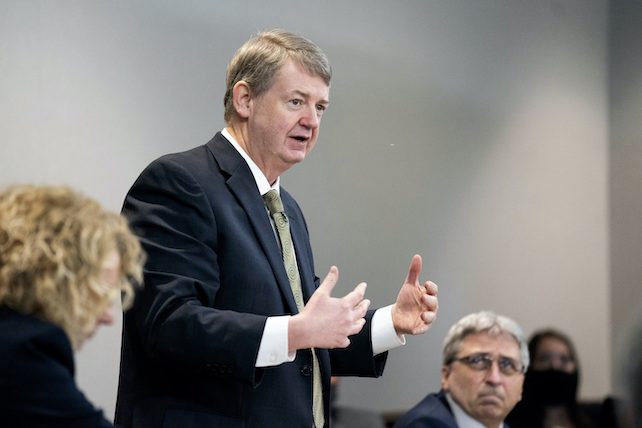 A defense attorney sparked backlash by complaining about "Black pastors" attending the Georgia trial of three white men accused of killing Ahmaud Arbery, who was Black. In response, more than 100 African American pastors plan to gather Nov. 18 outside the Glynn County Superior Courthouse. Journalist April Ryan tweeted that news on Friday, indicating that church leaders will assemble to "be in prayer" for Arbery's family.
Ahmaud Arbery, 25, was shot and killed in February 2020. The defendants—Greg McMichael, Travis McMichael, and William Bryan—say he was trespassing and they were trying to make a citizens arrest. Arbery's family contends he was jogging and looking at electrical work, which interested him career-wise.
When footage of the shooting emerged months later, anger over the incident contributed to a summer of racial justice protests. The defendants, who have pleaded not guilty, could face life in prison without parole if convicted.
RELATED: Race and the Church Podcast Series: Listen. Be Informed. Lead.
Ahmaud Arbery Murder Trial Controversy
The controversial comments came Thursday from Kevin Gough, a lawyer for Bryan. Referring to the Rev. Al Sharpton's presence in the courtroom Wednesday, Gough told the judge, "I believe that's intimidating, and it's an attempt to pressure—could be consciously or unconsciously—an attempt to pressure or influence the jury."
He added, "Obviously, there's only so many pastors they can have. And if their pastor is Al Sharpton right now, that's fine, then that's it. We don't want any more Black pastors coming in here…sitting with the victim's family, trying to influence the jurors in this case." Before the judge interrupted him, Gough started making a comparison involving Colonel Sanders and white masks.
Gough, who admitted he hadn't been aware of Sharpton's presence, told the judge a "precedent" of "high-profile" African American attendees "could be viewed as improper" because they have "no ties to this case other than political interest." He also noted that Sharpton isn't connected to a congregation and has previously run for political office.
In response, Judge Timothy Walmsley said all attendees are welcome in court as long as they don't disrupt proceedings. "I'm not going to blanketly exclude members of the public," he said. "I did not hear from anyone that there was any distraction whatsoever" from Sharpton's presence, Walmsley added. "Let's not overstate what's going on here, Mr. Gough."