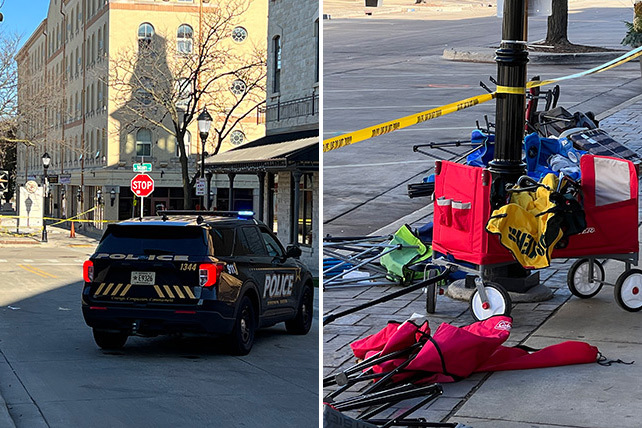 On Sunday, November 21, 2021, a driver of an SUV plowed through a suburban Milwaukee town's Christmas parade, killing six people and injuring over 40 others. One of those being an 8-year-old boy.
The Waukesha Christmas parade featured school marching bands, floats, and dance teams that included children. Amateur cell phone videos of the parade captured footage of the driver entering the event, swerving around parade vehicles and running over people in a marching band. Other videos show an SUV speeding passed another marching band, nearly striking a toddler dancing in the street, then proceeding to violently plow over members from a dance team who were cheerfully waving pom-poms in the air.
The dance team had not only children performing in the parade, but also members from the Milwaukee Dancing Grannies. The group posted on Facebook that they are "devastated" by the tragedy that occurred in Waukesha. "Our group was doing what they loved, performing in front of crowds in a parade putting smiles on faces of all ages, filling them with joy and happiness," their post reads.
"While performing the grannies enjoyed hearing the crowds cheers and applause which certainly brought smiles to their faces and warmed their hearts," they said. They then shared that some of those in their group were among the casualties. "Those who died were extremely passionate Grannies. Their eyes gleamed…joy of being a Grannie. They were the glue…held us together. Our hearts are heavy at this most difficult time, as more information and updates become available it will be posted. Please keep them, their families, friends, the Milwaukee Dancing Grannies and everyone whose lives have forever changed in your thoughts and prayers."
RELATED: North Carolina Pastor Killed After Car Crashes Into Restaurant
Children from the Waukesha Catholic school were injured in the SUV incident, including parishioners and a priest. In a statement released by the Archdiocese of Milwaukee, Communication Director Sandra Peterson said, "Our prayers are with the people who have been injured and killed during the tragic incident in Waukesha. Among the injured are one of our Catholic priests, as well as multiple parishioners and Waukesha Catholic school children. Please join us in prayer for all those involved, their families, and those who are traumatized from witnessing the horrible scene."
Waukesha School Board member Corey Montiho told the Milwaukee Journal Sentinel that his daughter's dance team was struck by the SUV, saying, "There were pom-poms and shoes and spilled hot chocolate everywhere. I had to go from one crumpled body to the other to find my daughter. My wife and two daughters were almost hit."
"Please pray for everybody. Please pray. My family is safe but many are not. I held one little girls head in my hand, she was seizing and she was bleeding out of her ears. I held her mother as she collapsed. Please pray," Montiho said.
Chris Germain, who was in the parade with his 3-year-old daughter, recalled what he saw at the scene, saying, "There were small children laying all over the road. There were police officers and EMTs doing CPR on multiple members of the parade."
Another parent, Jaymz Touchstone, who was watching his daughter's band play in the parade, said "[The vehicle] swerved around the big truck right behind the band, and then accelerated through the band and down the street."
Touchstone indicated that he attempted to pursue the car, saying, "I couldn't. I turned around and came back and started to render first aid to the people there. The kid that I was rendering first aid to—his feet were crushed. They ran over both of his legs. He hit his legs, got trapped under the tire."