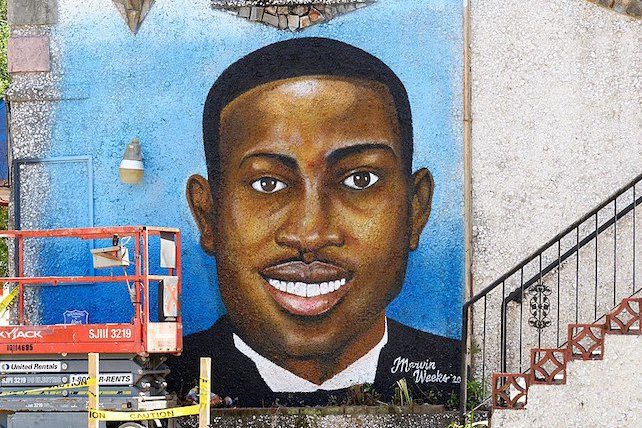 Last week's guilty verdicts for the three white Georgia men who murdered 25-year-old Black man Ahmaud Arbery led Arbery's parents to express gratitude toward God. The verdicts also prompted a range of reactions from prominent U.S. faith leaders. Although many voiced joy and relief, some say true justice shouldn't require so much outrage and public pressure.
The three defendants, who had pled not guilty to all nine counts, were convicted of most of them. Life in prison is the minimum sentence, although the judge will determine if parole is a possibility. The men also are awaiting trial for federal hate crimes.
Ahmaud Arbery's Mother: 'God Is Good'
After the decision by the almost-all-white jury was announced, Arbery's mother, Wanda Cooper-Jones, said, "It's been a long fight. It's been a hard fight, but God is good." Marcus Arbery, the victim's father, was removed from the courtroom after exclaiming about the verdict. Afterward, he called Wednesday "a good day" and spoke of unity and the sacredness of life.
"For real, all lives matter, not just Blacks, we don't want to see nobody go through this," he said. "I don't want no daddy to see their kid get shot down like that."
The Rev. Al Sharpton, the civil-rights activist who accompanied Arbery's family in the courtroom, thanked God, the legal team, and supporters who "marched and stood up." This case, he said, proves "that if we kept marching and kept fighting, we would make you hear us."
In Louisville, Kentucky, Pastor F. Bruce Williams says the guilty verdicts in Georgia should have been a given. Yet "to hear ['guilty'] over and over again is surprising, unusual, refreshing, and hopeful." He emphasizes that the outcome in the Arbery case isn't a sign of "radical reform." Rather, it's "a consequence of the pressure put on people and systems to change."
U.S. Sen. Raphael Warnock, a Baptist minister representing Georgia, said the verdict "upholds a sense of accountability but not true justice." The latter, he noted, would mean that Black men wouldn't have to worry about being hurt or killed while going about their everyday lives.
Faith Leaders Examine the Issue of Justice
After the verdicts were read, Christian author and former NFL player Emmanuel Acho tweeted, "As you digest the guilty verdict of Ahmaud Arbery's murderers remember, this is not justice, but accountability. Justice implies true restoration, which is impossible in this case, but this is accountability which is the first step towards justice."
Benjamin Watson, also a Christian author and former NFL player, tweeted about initial cover-ups by police and prosecutors. "Only a leaked video, months later led to these convictions," he added. "Your righteous outrage made this happen. Not the legal system."