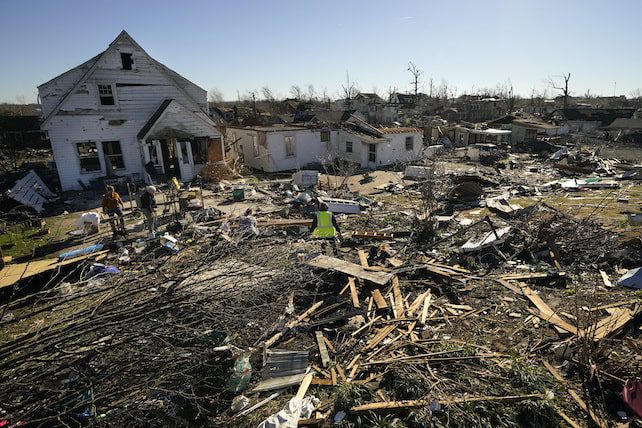 After an unprecedented swarm of tornadoes caused widespread devastation Friday, residents of hard-hit areas gathered Sunday to worship God, offer encouragement, and help meet needs. More than 50 twisters—including one with a 200-mile path—caused significant tornado damage in eight states.
As of Monday, the death toll in Kentucky alone stands at 74, with at least 14 more casualties in neighboring states. More than 1,000 homes were wiped out in Kentucky, says Gov. Andy Beshear. Rescuers can't go door to door in many areas, he adds, because "there are no doors."
Tornado Damage: Mayfield, Kentucky, Takes a Direct Hit
Rescuers spent the weekend searching for survivors, and officials are still assessing the tornado damage. Utilities are out in many communities, leaving residents without heat and electricity during one of the year's coldest months.
"We have nothing to rely on here," says Kathy Stewart O'Nan, mayor of Mayfield, Kentucky. "So that is purely survival at this point for so many of our people." The town of about 10,000 suffered catastrophic losses in its downtown area, which includes several churches. A local candle factory, filled with employees, was flattened.
On the Today Show Sunday, O'Nan described the devastation as "the most heartbreaking thing I've seen." But she says, "There's always hope," and "We hope for miracles in the days to come." O'Nan says her reasons for hope include "the volunteerism that sprang up" as well as all the prayers.
Resident Laura McClendon tells an AP reporter, "Our little town will never be the same, but we're resilient. We'll get there, but it's going to take a long time."
Signs of Hope Amid the Debris
On social media, residents shared other signs of miracles, hope, and praise. Wes Fowler, pastor of First Baptist Church in Mayfield, posted a photo of a lyric sheet that remained on the facility's floor. "All Praise to Him" is the song's title—as well as "the goal," he writes, "despite our circumstances."
On the floor in our gym after the tornado – despite our circumstances, this is the goal. All praise to Him. pic.twitter.com/qrMzW8K1XH

— Wes Fowler (@jwfowler128) December 11, 2021