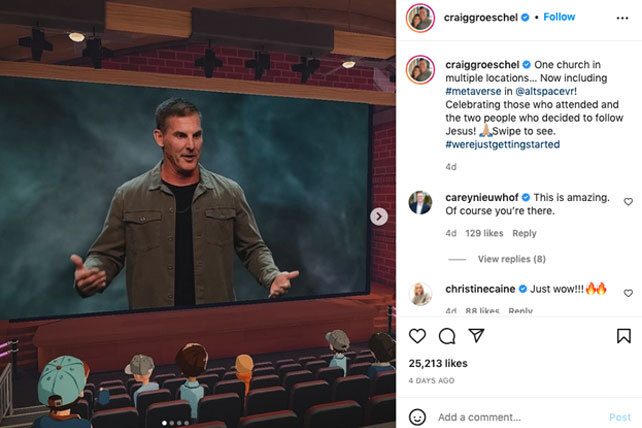 There was something highly unusual about a recent church service where Pastor Craig Groeschel led two people to Jesus: The service was held in virtual reality.
"One church in multiple locations," said Groeschel in an Instagram post published Monday, Dec. 13. "Now including #metaverse in @altspacevr! Celebrating those who attended and the two people who decided to follow Jesus! 🙏🏼 Swipe to see. #werejustgettingstarted."
View this post on Instagram
Craig Groeschel's Life.Church Has a New Location
Craig Groeschel is the pastor of Life.Church, a multisite megachurch based in Edmond, Okla. His Instagram post from earlier this week includes a video clip of part of a virtual church service where he invites people to follow Jesus.
As the clip begins, Groeschel mentions forgiveness and knowing God, saying, "Call on his name today. When you call on the name of Jesus, he hears your prayers, he forgives your sins, and by grace he makes you new. Those who say, 'Yes, I need his forgiveness, today, I give my life to Jesus,' if that's your prayer, lift your hands high right now." You can see at least one person in the back of the virtual auditorium raise his or her hand at that point, after which Groeschel leads the attendees in a prayer.
Carey Nieuwhof, founding pastor of Connexus Church in Barrie, Ontario, commented on Groeschel's post, saying, "This is amazing. Of course you're there." Author and speaker Christian Caine, who founded Propel Women and The A21 Campaign, also commented: "Just wow!!!🔥🔥."
Many people who responded to the post praised God and expressed how encouraging the news was. "This type of innovation is why we have the YouVersion app," said one. "Talk about being ahead of the curve!" The YouVersion Bible app, which recently hit 500 million installs, was founded by Life.Church pastor Bobby Gruenewald. Another user suggested that by going to virtual reality, the church is fulfilling the Great Commission.
A spokesperson for Life.Church sent the following statement to ChurchLeaders on Dec. 17, 2021:
With recent emphasis on the metaverse, organizations around the globe are taking a closer look how to leverage virtual reality—including the local church.
Last weekend, Life.Church hosted its second-ever church service in Microsoft's virtual reality platform called AltspaceVR. Nearly 100 people attended the service, and two people made the decision to follow Jesus.