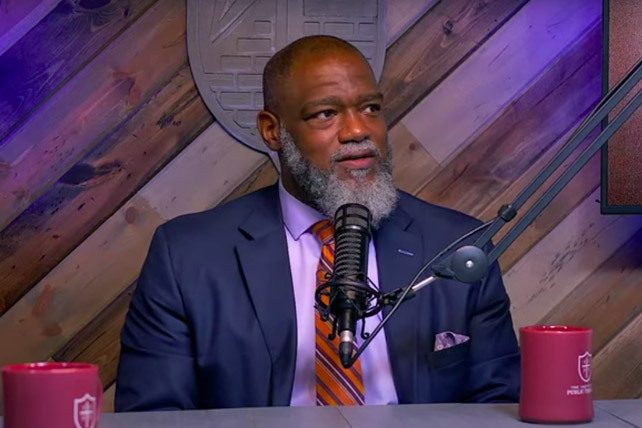 Voddie Baucham has joined the steering council of the Conservative Baptist Network (CBN), the CBN announced Monday, Jan. 10. Baucham, the author of "Fault Lines: The Social Justice Movement and Evangelicalism's Looming Catastrophe," is an outspoken opponent of critical race theory (CRT). 
"Voddie Baucham is a leading voice contending for truth in this generation," said CBN's executive director Scott Colter in a press release. "His writing and speaking have influenced hundreds of thousands around the globe to stand for biblical virtues. I am thrilled he is joining with the Conservative Baptist Network in these most important times."  
Fellow steering council member Rod Martin said, "My friend, Voddie Baucham, has long been a warrior for truth and sound doctrine, in the SBC and across the world. And this is a time for men like Voddie, who will speak the hard truths in love without fear, despite all opposition." Martin is one of several members of the Southern Baptist Convention's (SBC) executive committee (EC) who resigned after the committee voted to waive attorney-client privilege in the investigation into whether or not the EC mishandled allegations of sexual abuse. 
Voddie Baucham, the CBN, and the SBC 
The Conservative Baptist Network is a grassroots organization that launched in February 2020 to address what its members perceive to be a trend towards liberalism in the SBC. The purpose of the CBN as stated on its website is to be "a partnership of Southern Baptists where all generations are encouraged, equipped, and empowered to bring positive, biblical solutions that strengthen the SBC in an effort to fulfill the Great Commission and influence culture." Members of its steering council include former Arkansas governor Mike Huckabee, Family Research Council president Tony Perkins, and In Touch Ministries founder Charles Stanley.
While CBN's press release does not specifically mention CRT, critical race theory has been a chief concern of the organization. In November 2021, CBN promoted a film called "Enemies Within the Church," which claims that Marxism has a foothold in various Christian institutions, including some affiliated with the SBC.
CRT is a hot topic within the Southern Baptist Convention generally. After the presidents of the SBC's six seminaries issued a statement in November 2020 declaring that critical race theory is incompatible with the Baptist Faith & Message (BF&M), several Black church leaders left the denomination. 
Some Black SBC leaders, including Rev. Marshal L. Ausberry Sr., published statements expressing that they thought certain aspects of CRT could in fact be helpful. Ausberry is the president of the National African American Fellowship (NAAF) of the SBC, as well as a pastor and the SBC's first vice president. 
Several resolutions on CRT were proposed at the SBC's 2021 Annual Meeting in June, including some that specifically said CRT is incompatible with the BF&M. But messengers chose instead to pass a resolution affirming the sufficiency of Scripture for racial reconciliation without mentioning CRT by name. Notably, Ed Litton, who is known for his racial reconciliation work, narrowly defeated Mike Stone, a member of CBN's steering council, in the race for the SBC presidency.
Shortly after he was elected, Litton was accused of plagiarizing the work of former SBC president J.D. Greear in a sermon. Litton said he had permission to use Greear's content, but acknowledged he should have cited Greear as a source. Greear confirmed that he had granted Litton permission to use his work. On July 20, 2021, about a month after the accusations against Litton surfaced, the CBN called on Litton to resign because of the plagiarism accusations, saying that Litton had displayed a pattern of deceit and must be held accountable.