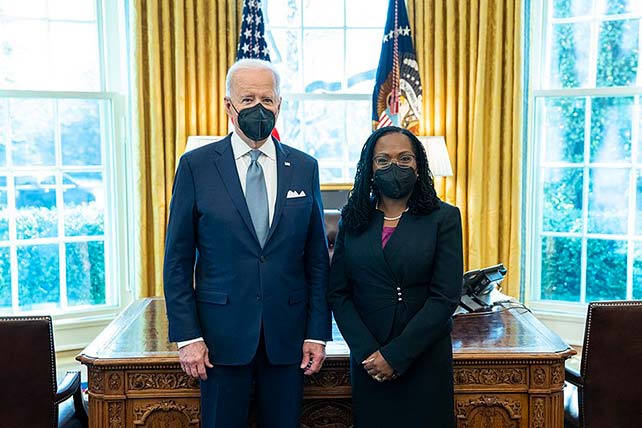 WASHINGTON (BP) – The White House announced Friday morning (Feb. 25) President Biden's historic nomination of federal appeals court judge Ketanji Brown Jackson to the U.S. Supreme Court.
Jackson, who serves on the District of Columbia Circuit Court of Appeals, is the first African American woman nominated to the Supreme Court. Biden had pledged during the 2020 presidential campaign he would select a Black woman for the high court.
If confirmed by the Senate, Jackson, 51, would become the fourth female justice on the current court, marking the first time the Supreme Court has had that many women among its nine members. Jackson's confirmation would make her the youngest current justice except for Amy Coney Barrett, 50, who was nominated by President Trump and confirmed in 2020.
"We should not miss the historic nature of this nomination of Judge Jackson," said Brent Leatherwood, acting president of the Southern Baptist Ethics & Religious Liberty Commission, in written comments. "America remains a land of opportunity, and that is no small thing in our current world.
"That said, seats on the U.S. Supreme Court are vitally important positions in our constitutional system. Because of that, Judge Jackson must receive a thorough vetting by Senators – particularly on issues related to the First Amendment – to gain a better sense of what guides her judicial philosophy.
"Matters such as abortion, religious liberty, and the family are especially relevant right now. Gaining clarity on them will be key during this process. Ultimately, while it is true her confirmation would not change the makeup of the court, most Americans do not want a new justice that would dramatically alter the direction of the court."
RELATED: Are Some Evangelicals Taking John MacArthur's Religious Liberty Comments out of Context?
The announcement of Jackson's nomination came nearly a month after Associate Justice Stephen Breyer, 83, informed the president in a Jan. 27 letter of his retirement when the court's term ends this summer. Breyer, who is considered a member of the Supreme Court's liberal wing, will have served nearly 28 years upon his retirement. Jackson served as a clerk to Breyer during the high court's 1999-2000 term.
President Obama nominated Jackson as a federal judge in the District of Columbia, and the Senate confirmed her in 2013. Selected by Biden last year for the D.C. Circuit Court, Jackson received a 53-44 vote for confirmation in June. Three Republicans – Sens. Susan Collins of Maine, Lindsey Graham of South Carolina and Lisa Murkowski of Alaska – joined the Democrats in the equally divided chamber to confirm her.
As it has been for more than three decades, abortion is likely to be a major subject of debate during the confirmation process. Though Jackson reportedly has not issued an abortion ruling, some organizations on both sides of the issue commented on her nomination as if they expect her to be supportive on the high court of a right to the procedure.
Jackson "is backed by many of America's most radical pro-abortion groups," said Marjorie Dannenfelser, president of the pro-life Susan B. Anthony List. "We have no doubt she will work with the most pro-abortion administration in history to enshrine abortion on demand nationwide in the law."
Carol Tobias, president of the National Right to Life Committee, said Biden "made a campaign promise to impose an abortion litmus test on his nominees." It "is extremely important" that senators "carefully examine" Jackson's record and judicial philosophy, she said.
Mini Timmaraju – president of NARAL Pro-choice America, a leading abortion rights organization – praised Jackson's nomination, saying she "has a demonstrated record of defending and upholding our constitutional rights and fundamental freedoms – including reproductive freedom. We are confident that she will be a voice for justice, equity, and freedom on the Court in the decades to come."
Nancy Northup, president of the Center for Reproductive Rights (CRR), said Jackson "has not ruled on any cases that directly address abortion rights." CRR looks forward to her testimony before the Senate Judiciary Committee regarding her philosophy and her perspective on the "fundamental right" to decide about, "and have access to, the full range of reproductive healthcare."
As a member of a Boston law firm in 2001, Jackson and other lawyers filed a friend-of-the-court brief in support of a Massachusetts law that established a moving "buffer zone" around people and cars nearing abortion clinics, SCOTUS blog reporter Amy Howe wrote. The First Circuit Court of Appeals upheld the law.
After graduating from Harvard Law School in 1996, Jackson served in a variety of public and private roles. These included service as a federal public defender in Washington, D.C., for two years and a stint as a staff member of the U.S. Sentencing Commission and another as vice chair of the commission.
This article originally appeared at Baptist Press.