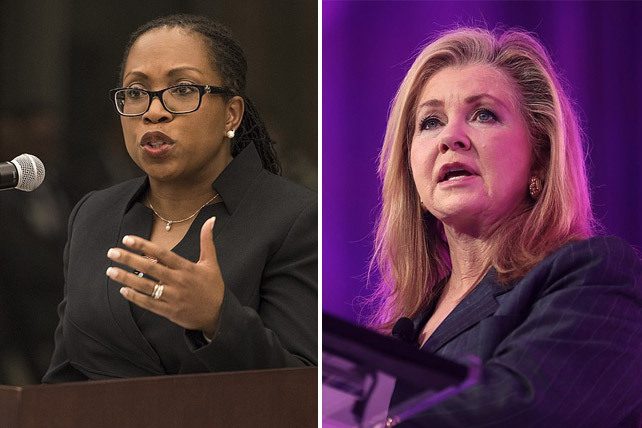 Two pastors in Tennessee have spoken out publicly against Sen. Marsha Blackburn (R-Tenn.) for the way she questioned Judge Ketanji Brown Jackson during Jackson's Senate Judiciary Committee hearings this week. Meanwhile, Christian author and speaker Jackie Hill Perry has drawn criticism for retweeting a viral photo of Jackson and Jackson's daughter, Leila.
"​​I was dismayed that [Blackburn] took her time to pose a line of questioning to Judge Jackson that she ought to have known would be inappropriate to answer," said Rev. Brandon Berg in a statement to ChurchLeaders. "She quite effectively highlighted Judge Jackson's professionalism and poise and made herself look ill-informed, at best. I was ashamed at the way she represented the faith she professes and the state we call home." 
Berg is pastor of First United Methodist Church in Bristol, Tenn., and a member of the Southern Christian Coalition (SCC). He and fellow SCC member, Rev. Billy Vaughan, told Fox 17 News they see Blackburn's line of questioning as being driven by a political agenda and out of line with the values of Jesus. Blackburn attends church and has described herself as a "woman of faith."
"She took past statements by the nominee grossly out of context solely to make political points," said Vaughan. "Those points had nothing to do with either the truth of the statements or the qualifications of Judge Jackson."
Ketanji Brown Jackson: Some Notable Moments 
One moment of Blackburn's line of questioning that has drawn quite a bit of attention was when the senator asked if Jackson could define what a "woman" is. Jackson said that she could not because she is not a biologist, to which Blackburn expressed alarm that Jackson could not offer "a straight answer about something as fundamental as what a woman is." 
RELATED: People Find Ketanji Brown Jackson's Refusal to Define 'Woman' Controversial—But for Different Reasons
Blackburn asked this question in the context of probing Jackson's views about gender identity in education and said that she sees the judge's answer as indicative of "the dangers of the kind of progressive education that we are hearing about." 
Specifically, Blackburn cited the fact that transgender athlete Lia Thomas won the NCAA swimming championship on March 17. Florida governor Ron DeSantis has refused to acknowledge Thomas as the champion and has issued a proclamation declaring runner-up Emma Weyant (a Florida resident) the "rightful winner." 
While some conservatives are slamming Jackson for not knowing what a "woman" is, others see her response as conservative since she rooted the definition in biology. 
When asked what he specifically found off-putting in Blackburn's line of questioning, which included a variety of topics, Berg said that he was surprised the senator would ask Jackson about pending or future cases pertaining to abortion that could come before the Supreme Court, instead of focusing on the judge's past experience. "It felt a whole lot like, well, grandstanding really," he said.
Jackie Hill Perry Draws Heat for Retweet
Another moment from the hearings gaining quite a bit of attention was captured in a photo taken by The New York Times' Sarahbeth Maney. The photo, which has gone viral, shows Ketanji Brown Jackson's daughter, Leila, smiling at her mother during the hearings. When Jackie Hill Perry retweeted the photo, saying, "A mood," some responded with sharp criticism, even questioning whether Perry is a true Christian.