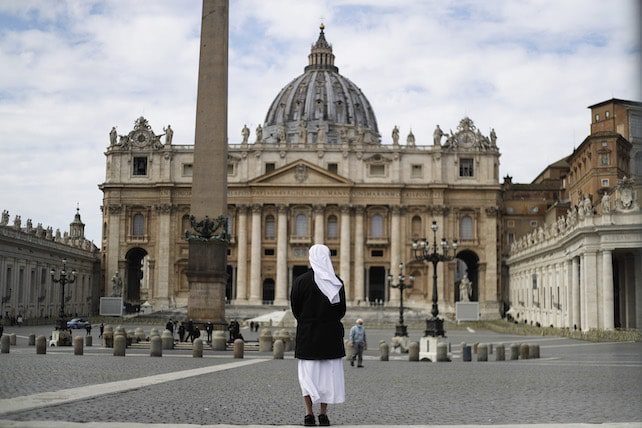 VATICAN CITY (RNS) — The long-running prosecution of high Vatican officials for a real estate investment gone wrong has produced a few historic, shocking and even titillating moments, from Pope Francis' decision to allow a cardinal of the church to be indicted to the intimations, denied by that same cardinal, that his relationship with a female security consultant was more than advisory.
But some of the most intriguing testimony came last week as Monsignor Mauro Carlino, a former official of the Vatican's powerful Secretariat of State, raised the veil on the widely known but rarely glimpsed rivalry between the Secretariat and the Vatican bank, involving secret surveillance, alleged blackmail and good old-fashioned backstabbing.
The monsignor admitted to Vatican judges that he had commissioned surveillance of important bank officials, as well as one of Pope Francis' closest advisers.
Culturally the Secretariat and the bank are very different institutions. The Vatican bank, officially called the Institute for Religious Works, is run by laypeople and non-Italians at that, and has tried to shake off a well-deserved reputation for financial scandal in recent years by adopting global standards of transparency and accountability.
The Secretariat, the seat of the church's secular sovereignty, is the province of cardinals, archbishops and other clerics. It handles relations with other states, Vatican diplomacy and the government of the departments and offices that make up the Roman Curia. Its decisions have largely yielded the scandal behind the current trial.
Carlino is among 10 defendants facing trial for their part in the controversial purchase of prime real estate in London's Chelsea neighborhood that has cost the church well over $300 million from a fund earmarked for the pope's charitable works. Among the others are Cardinal Angelo Becciu, a former sostituto, the secretary of state's chief of staff, and Carlino's onetime boss, and an Italian businessman named Gianluigi Torzi.
As the investment soured, Francis removed Becciu, who had overseen the purchase of a majority stake in a fund that owned the London property, replacing him with Archbishop Edgar Pena Parra. Pena Parra oversaw the Secretariat's turbulent efforts to take full ownership of the property in Chelsea with the help of Torzi. But in brokering the deal, Torzi held onto 1,000 voting shares of the fund, giving him ultimate control over the property's disposition.
In the spring of 2019, Pena Parra was frantically looking for a way to exit the arrangement with Torzi. He asked the Vatican bank for a loan to pay the businessman $17 million for his controlling shares as well as to pay off $120 million in debt on the London apartment house. Pena Parra's request was seconded by Cardinal Pietro Parolin, the Vatican's secretary of state, in a letter to the bank.
In late May of 2019, the Vatican bank's president, French investment banker Jean-Baptiste de Franssu, approved the loan, Carlino told the judges. "The pope approved, the sostituto was happy the affair was concluded," he said, "and then a communication arrives stating that after all (the loan) wasn't approved."