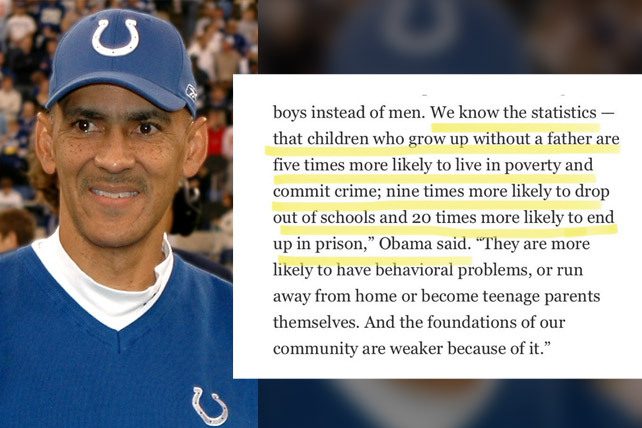 Sports broadcaster Tony Dungy, an outspoken Christian, is pushing back against criticism after appearing with Florida's conservative governor, Ron DeSantis. On April 11, Dungy, founder of All Pro Dad, spoke at a bill-signing event for a fatherhood initiative.
Critics quickly took aim, accusing Dungy of repeating harmful statistics during his remarks and of being used as a "prop by bigots." Dungy, a former NFL coach who doesn't shy away from hot-button topics on social media, defended himself. He tweeted that he is "serving the Lord" and is determined to "keep supporting dads and families."
Tony Dungy Cites Stats About Fatherless Boys
While speaking Monday about HB 7065, which will provide grant money to father-focused nonprofit groups, Dungy told an anecdote about visiting a prison with the Rev. Abe Brown. When Dungy asked Brown why so many young Black people end up behind bars, the minister replied, "It's not socioeconomic, it's not racial, it's not education, it's none of that." Dungy recalled Brown saying, "Ninety-five percent of these boys did not grow up with their dad," which "hit me very hard."
Twitter users quickly took issue with that, saying the stat has been disproven yet keeps emerging, to the detriment of Black communities. "Tony Dungy lives in fantasy land with the rest of the Trump/DeSantis fanboys," tweeted Juwan the Writer. "This myth has been statistically debunked year after year, and even the most absurd claims aren't anywhere near '95%'."
Josh Levs, author of "All In," describes how statistics about Black fathers get twisted and "overblown." Systemic racism also affects the numbers and how they're presented, he says.
Fellow broadcaster Stan Van Gundy tweeted that context is important. "It is not the part about the importance of fathers that I objected to," he replied to Dungy. "It was you quoting someone who said young men being imprisoned had nothing to do with socio-economic status, race or education. That is just undeniably false!"
In his defense, Dungy tweeted, "14 yrs ago President Obama said the same things almost verbatim. I'm assuming people were outraged at him too." The former coach posted an image of Obama's words from a 2008 Father's Day event at a Chicago church.
Obama, then a presidential candidate, said, "More than half of all Black children live in single-parent households, a number that has doubled—doubled—since we were children." At the time, fact-checkers deemed those numbers true. Since then, the CDC has praised the involvement rates of Black dads.