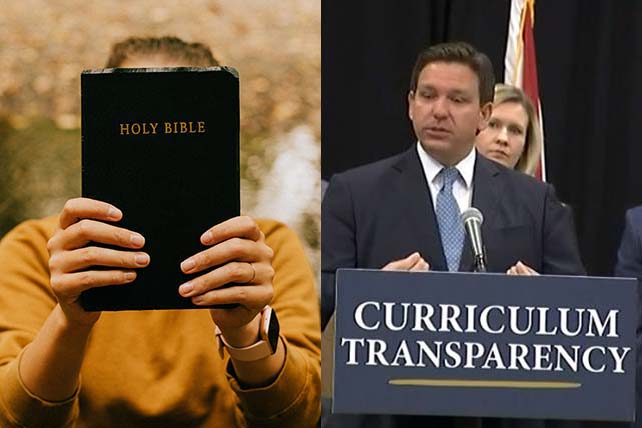 Activist, atheist, and Mount Jab Church of Mars' founder Chaz Stevens sent letters to 63 school districts in his home state of Florida requesting they remove the Bible from classrooms, libraries, and all other instructional materials, trolling Gov. Ron DeSantis for his recent signing of HB 1467.
The bill that passed the Florida House with a 79-41 vote, and which goes into effect July 1, 2022, was written after parents complained about sexually explicit books being taught in public schools. The bill increases the involvement of parents regarding the selection of books and materials used in school classrooms.
"Meetings of committees convened for the purpose of ranking, eliminating, or selecting instructional materials for recommendation to the district school board must be noticed and open to the public in accordance with s. 286.011. Any committees convened for such purposes must include parents of district students," the bill reads.
The Florida Department of Education showed examples of math problems in 54 books the state will not allow to be used in its school classroom, because they claim publishers are attempting to indoctrinate students, specifically citing critical race theory.
RELATED: 'What Has Happened at Disney Is Moral Failure': Franklin Commends FL Governor DeSantis for 'Bold Stand'
At the bill's signing, Gov. DeSantis said, "What this is going to do is it is going to require transparency with respect to the materials that are being taught in classrooms or that are available in school libraries. If that's something that is going to be used, then that's something that a parent would have the right to understand and know that's going out there."
Additionally, DeSantis said that the bill also ensures that school curriculums and teachers' professional development align with required instruction and state standards.
Stevens started a GoFundMe account titled "Help Us Ban The Bible in Florida Public Schools." He writes, "How long have you and I waited for a chance to have the Bible's role in the classroom evaluated by every single school district? This is a one-in-a-lifetime chance…and we need REALLY your help!"

"In pursuit of the White House, Gov. Ron DeSantis signed House Bill 1467, which requires school districts to give parents a say in the selection of instructional materials, including library books and textbooks," Stevens explained. "What the [expletive]?"
Admitting to trolling—antagonizing online behavior directed towards someone that deliberately posts inflammatory, irrelevant, and/or offensive comments and/or disruptive content; to harass—Gov. DeSantis and his administration, Stevens shared that he has reached out to 63 state school districts to ban the Bible and any materials that reference the Bible.
RELATED: John MacArthur's Lawyer Jenna Ellis Offers to Defend Disney Against Florida's New Bill; Sean Feucht Responds
Stevens is ordained in the state of Florida and claims the Bible is being "used to justify slavery, homophobia, and wars for centuries, it's long past time to ban this dangerous book from our public schools."