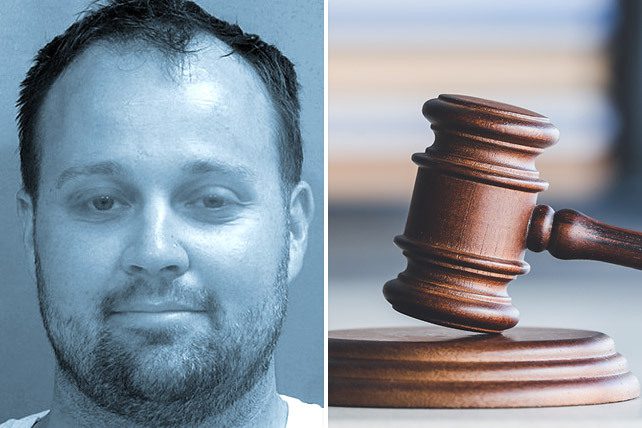 Josh Duggar was sentenced to over 12 years in prison on Wednesday, May 25. The Sun reports Duggar had no reaction when the sentence was announced.
This is the day that smug gross smile slowly fades as he gets locked away.

— Amy Rachelle King (@amyduggar) May 25, 2022
Josh Duggar Gets 151 Months 
Federal prosecutors sought a maximum sentence of 20 years in prison for Josh Duggar, who in December 2021 was convicted on two counts: receiving and possessing child pornography. His defense sought a five-year prison sentence.
Duggar has also confessed to a pornography addiction and to being unfaithful to his wife, Anna Duggar. There are credible allegations that as a teenager, he molested five young girls, four of whom were his own sisters. 
On Tuesday, Judge Timothy L Brooks denied defense attorneys' request that Duggar be acquitted or receive a new trial. Duggar's lawyers made this request on the grounds there was insufficient evidence to convict him. Brooks was not convinced, saying, "Mr. Duggar's argument lacks merit, as there is ample evidence he viewed the images of child pornography that had been downloaded to his business computer." 
Josh Duggar's wife, Anna Duggar, his father, Jim Bob Duggar, his brother, Jason Duggar, and his sister, Joy-Anna (Duggar) Forsyth, were seen with Josh outside the courthouse before his sentencing. 
Wednesday morning, KNWA reporter Anna Darling, who attended the proceedings, tweeted, "Out for lunch break. Duggar's defense team had 22 objections to the pre-sentence report so we have spent the entire morning hashing those out. Some Judge Brooks has supported, others not." 
One development Darling mentioned was Duggar was now only being sentenced for one charge, receiving child pornography. "The court has officially vacated his second count, which was for possession of child pornography, and was the lesser charge," she said. "Receipt of child porn is the only charge being judged." Both the defense and prosecution vacated the count of possessing child pornography without prejudice.
Duggar has been sentenced to 151 months, that is, 12 years and seven months, in prison. Brooks will recommend that Duggar receive sex offender treatment while in prison, but Duggar will not be required to pursue this treatment.