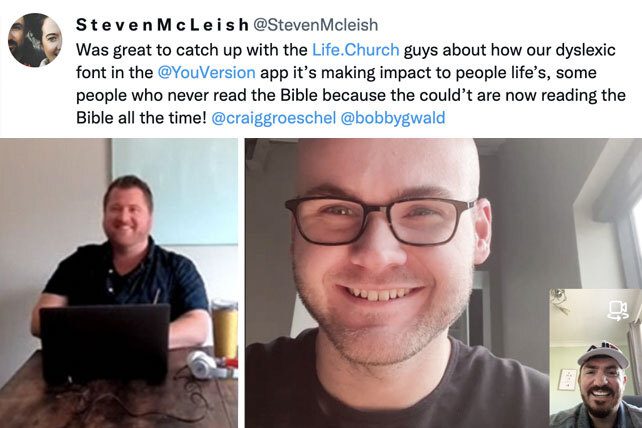 Did you know that the YouVersion Bible App has a dyslexic font? Steven McLeish, pastor of Renew Church Scotland, recently celebrated a collaboration with Life.Church that has helped make the Bible easier to read for people all around the world.
"Being dyslexic myself I had a dream to make the Bible more accessible to others like myself," said McLeish in a statement to ChurchLeaders. "My hope was to make the Bible more dyslexic-friendly, which gave me an idea to reach out to Life.Church, as their YouVersion app was free and it could get out to as many people as possible." 
Was great to catch up with the https://t.co/1hgiZl39XQ guys about how our dyslexic font in the @YouVersion app it's making impact to people life's, some people who never read the Bible because the could't are now reading the Bible all the time! @craiggroeschel @bobbygwald pic.twitter.com/CoEeGqTVdn

— S t e v e n M c L e i s h (@StevenMcleish) June 3, 2022
Dyslexic Font Added to YouVersion in October 2020
The Mayo Clinic defines "dyslexia" as "a learning disorder that involves difficulty reading due to problems identifying speech sounds and learning how they relate to letters and words (decoding). Also called reading disability, dyslexia affects areas of the brain that process language." Dyslexia is different from having poor vision and is not a sign of a lack of intelligence. 
According to the Yale Center for Dyslexia & Creativity, dyslexia "is the most common of all neuro-cognitive disorders." Around 20% of the world's population experiences dyslexia, and this percentage represents about 80% to 90% of all people with learning disabilities.
Dyslexic fonts are designed to be easier to read in their spacing, thickness and angles. It should be noted that several scientific studies on the effectiveness of dyslexic fonts have had inconclusive results or have found no improvement in reading rate and accuracy. Nevertheless, there are those who testify to the fonts' helpfulness. 
The YouVersion Bible App, which hit half a billion downloads last November, was launched by Life.Church. Bobby Gruenewald, the founder and CEO of YouVersion, said in a statement to ChurchLeaders: 
We're passionate about removing barriers so that everyone has access to the Bible. We added the OpenDyslexic font to the app because we know some of our YouVersion Community processes written text differently. We hope this addition not only helps them feel like the app was made specifically for them but that it also leads them into deeper intimacy with God through His Word.
A spokesperson for Life.Church told ChurchLeaders that, due to how common dyslexia is, there has for some time been a way for people to use a dyslexic font in the Bible app, so long as users already had the font on their devices. It was after McLeish reached out, however, that the OpenDyslexic font was added to the font menu within the app.