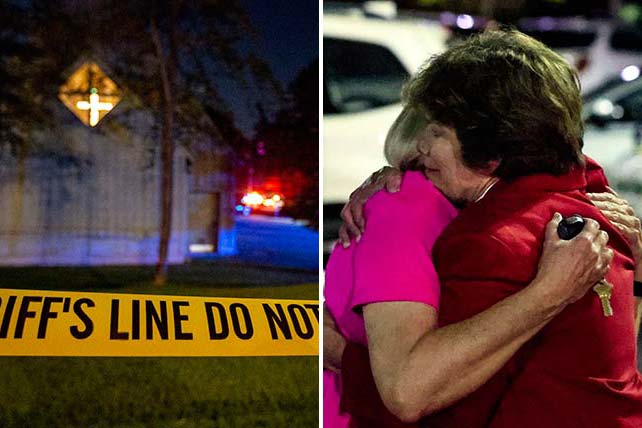 Tragedy in the form of a church shooting struck  St. Stephens Episcopal Church in Vestavia Hills, Alabama, on Thursday (June 16. 2022) night after a gunman opened fire, killing two church members and wounding another.
Church Shooting Results in Death, Injury
The church was hosting a potluck dinner when the shooting took place in a suburb of Birmingham. Vestavia Hills Police Department stated that at 6:22 pm they were informed of an active shooter at the church. Captain Shane Ware shared that a lone suspect, who is in police custody, entered the church and began shooting. "Three people were shot. Two people are deceased. One person is being treated for an unknown injury at a local hospital," Ware said.
The department is praying for all who are involved, said Ware. "The Vestavia Hills Police Department would like to express our prayers for the families of the victims of this tragic event and for everyone in our community and greater community that is affected by this tragedy."
RELATED: Mississippi Church Cancels All In-Person Events Wednesday After Shooting Threat
The shooter, a 71-year-old white male, occasionally attended the church. According to police he pulled out his concealed handgun and started shooting, resulting in the deaths of 84-year-old Walter Rainey (white male) and 75-year-old Sarah Yeager (white female). The shooter also injured an 84-year-old white female who is still in the hospital.
Police shared that a person attending the church event heroically restrained the gunman and held him down until the authorities arrived.
During a press conference held on Friday morning, Ware said, "The person that subdued the suspect in my opinion is a hero," and that this hero's actions were "extremely critical in saving lives."
A statement released by the Vestavia Hills Police Department said that the gunman will remain in jail at the Vestavia Hills Police Department until warrants for "Capital Murder are issued by the Jefferson County District Attorney's Office later today."
St. Stephens Episcopal Church's Pastor out of the Country
St. Stephens Episcopal Church's Rector Rev. John Burruss is currently out of the country on a church pilgrimage with other members in Athens, Greece.
Burruss posted a short video on the church's Facebook page thanking people for their love and support in the midst of what has taken place. The pastor shared that he working to get home, while saying, "In the coming days, in the coming hours, we'll have announcements about updates of ways to pray and to gather—that is what we do as people of faith: We come together in the midst of life and death."
RELATED: Doctor, Baylor Grad 'Sacrificed Himself' To Save Others During Racially Motivated Church Shooting