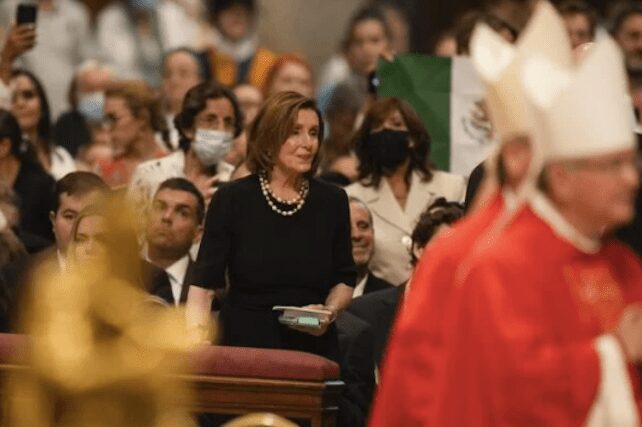 VATICAN CITY (RNS) — In defiance of some U.S. bishops, Speaker of the House Nancy Pelosi, reportedly received communion during a mass presided over by Pope Francis on Wednesday (June 29) for the celebration of the feast of St. Peter and Paul.
Archbishop Salvatore Cordileone announced June 1 that the Catholic congresswoman is banned from receiving communion in her home diocese of San Francisco due to her abortion rights stance. Since then, she has been barred from receiving the sacrament in four dioceses.
Pelosi called the recent pronouncement by the U.S. Supreme Court to overturn Roe v. Wade an "outrageous and heart-wrenching" decision. The U.S. Catholic bishops lauded the court's decision, which they said overturned "an unjust law that has permitted some to decide whether others can live or die."
Pelosi met with Francis on Wednesday before the service and received a blessing, according to one of the Mass attendees.
Sitting in the VIP section during the traditional Mass at St. Peter's to celebrate the patron saints of Rome, Pelosi listened to Pope Francis' homily before receiving communion from one of the many priests in the Basilica, according to eyewitnesses. Francis has rarely distributed Communion, citing precisely the desire to prevent politicization of the sacrament.
Last year, President Joe Biden, another Catholic who also supports abortion rights, said after meeting with Francis that the pontiff told him to continue receiving the sacrament. Biden later received Communion during a Mass in a Rome church that is under the authority of Francis as bishop of Rome.
In his homily, Francis urged faithful to "Go to the crossroads and bring everyone: blind, deaf, lame, sick, righteous, sinful, everyone, everyone! This word of the Lord must resound, resound in the mind and heart: everyone! In the Church there is room for everyone," adding that "many times we become a Church with open doors but to dismiss people, to condemn people."
Last year, Pope Francis told reporters on his return flight from Central Europe that he has never denied Communion to anyone and criticized bishops who didn't act as shepherds and "aligned themselves with political life, on political problems." The Vatican's doctrinal department, in a letter in May of last year, urged the U.S. bishops to engage in dialogue among themselves and with Catholic politicians before reaching any decision.
RELATED: This Pride Month, Catholic Church shows clear, if subtle, shifts toward LGBTQ welcome
During the Mass on Wednesday, Pope Francis blessed the palliums, the liturgical vestments, of new metropolitan archbishops. He told the archbishops in attendance to "fight the good fight," but to do so with the entirety of the faithful, without considering themselves superior.
After the Mass, Pelosi met with representatives of the Catholic charitable movement St. Egidio where she spoke in support of Ukrainian refugees and made a donation of $25,000.