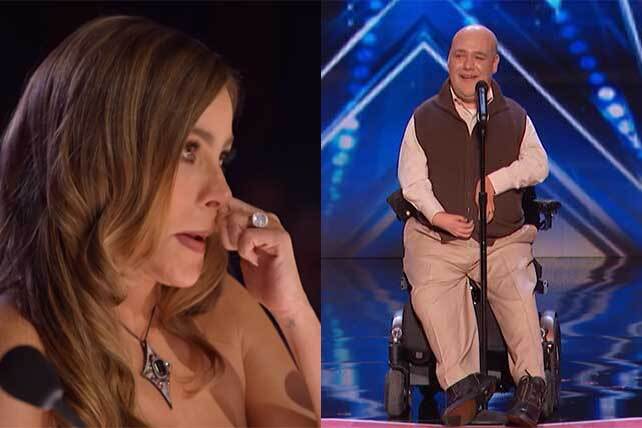 Southern Gospel singer Ben Waites stole the show during the audition round of the popular talent show competition America's Got Talent (AGT), leaving judge Sofia Vergara in tears after his powerful performance.
The 32-year-old vocal coach from Nashville, Tennessee, was born with arthrogryposis multiplex congenita. According to John Hopkins Medicine, "arthrogryposis multiplex congenita (AMC), is a term used to describe a variety of conditions involving multiple joint contractures (or stiffness). A contracture is a condition where the range of motion of a joint is limited. It may be unable to fully or partially extend or bend."
Waites' condition leaves him bound to a wheelchair, but he shared that his family has always been a huge encouragement in not letting his disability limit him.
"Growing up, my parents and grandparents kept that same mentality in how they raised me," Waites told Baptist Press. "They would encourage me that if I wanted to do something then do it, and do it to the best of my ability. There were no excuses, and you would just figure out how to do what you wanted to do."
RELATED: Singer and Cancer Survivor Nightbirde Leaves 'AGT' to Fight Illness
The singer shared on his website that he was inspired at a young age by his grandfather, Jim Waites, who founded the Gospel Tones Quartet. It was his grandfather's desire to spread the Gospel that inspired Ben to begin his musical training.
"Music is my language, but I can't say it's the most important thing in my life," Waites' bio reads on his website. "When I do a concert, it's never about the music. God is my pilot, I'm just the co-pilot. I'll sing as many songs as I can, but if I can't communicate the message then I don't need to be singing anyway. It's just the tool, and I have the rest of my life to study and train. I do have the goals that I'd like to achieve, but they're not mandatory or a necessity."
Waites' appeared on the latest episode of AGT on Tuesday, continuing his grandfather's legacy by singing his version of Cyndi Lauper's "True Colors." When asked why he chose to sing that song, Waites said, "The message of the song, I feel, is able to speak to people no matter their age, their race, their background. It's able to communicate a message of hope."
The husband and father of three had the complete attention of all three judges throughout the song. (Judge Howie Mandel was not in attendance due to an undisclosed illness.)
RELATED: This Is Why the AGT Judges Can't Stop Praising Michael Ketterer
During Waites' audition, Vergara was visibly moved and cried throughout the song. After Waites finished, judge Simon Cowell told the singer, "Sofia does not cry."
"I loved it, because, you know, it's a beautiful song, but you made it yours and it was special. It was different," Vergara said as she wiped away tears.