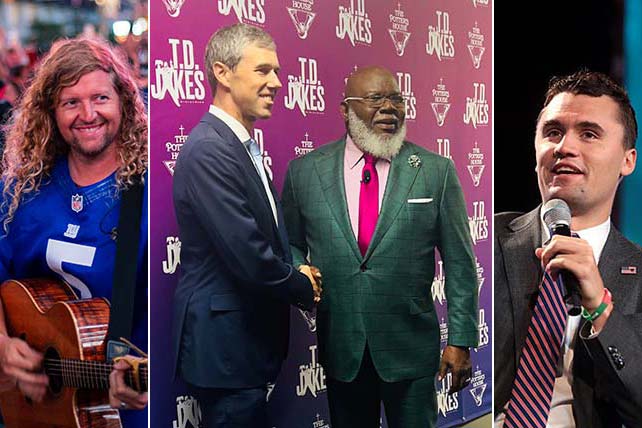 America's famous bishop T.D. Jakes has come under fire for welcoming Democratic nominee for Texas governor Beto O'Rourke to The Potter's House in Dallas, Texas, this past Sunday (Oct. 23).
The politician thanked Jakes on Twitter, saying, "It was an honor to be welcomed into The Potter's House by Bishop T.D. Jakes. Thank you for having me at this morning's service in Dallas."
O'Rouke, the 50-year-old former Texas U.S. House of Representatives (2013-2019), is campaigning against current Texas governor, Greg Abbott (64), in this year's November election.
O'Rouke is known for his extreme pro-abortion policy stances and is making abortion one of the top issues of his campaign, attacking Abbott's pro-life stance and the laws restricting abortion in the state that Abbott has helped to put into effect, both before and after the Supreme Court overturn of Roe v. Wade this past June.
RELATED: T.D. Jakes' Daughter, Pastor Sarah Jakes Roberts, Anointed To Succeed Her Father
In an email sent to supporters, O'Rourke asked, "What are the most important things Texans need to know about Abbott?" The Democratic candidate answered, "Greg Abbott signed the nation's most extreme abortion bill into law with no exception for rape or incest, even though 82% of Texans reject his radical ban."
Jakes supported former President Barack Obama during his presidential run in 2008 and described President Joe Biden's 2021 inaugural address as hopeful and encouraging.
In an interview with The Atlantic last year, Jakes shared that his theological stances on abortion and same-sex marriage would be similar to stances held by conservative Southern Baptist pastors, but explained that his differences with them politically is a matter of emphasis.
"To raise the concern for the unborn above the born—to fight for the life in the womb and not in the prison or in the school systems—if life is valuable, then after the mother pushes out the baby, that life should still be that valuable," Jakes said.
Sean Feucht and Charlie Kirk Call Out Jakes for Welcoming O'Rourke
"Let Us Worship" founder Sean Feucht, who recently released "SuperSpreader," a documentary chronicling the mass outdoor worship concerts he held during COVID-19 pandemic lockdowns, tweeted a message to his followers regarding Jakes political pro-choice guest.
"I will never understand these churches giving a political platform to woke politicians who love abortion and hate religious liberty," Feucht wrote.
This past Saturday (Oct. 22), the global worship leader led thousands of people in worship at various places around the nation's capital, which included stops at the White House, Lincoln Memorial, and the Supreme Court building. Feucht expressed that he isn't against church leadership speaking about politics in their churches, but he is against them welcoming politicians that don't align with the biblical values most important to many conservative minded evangelicals.