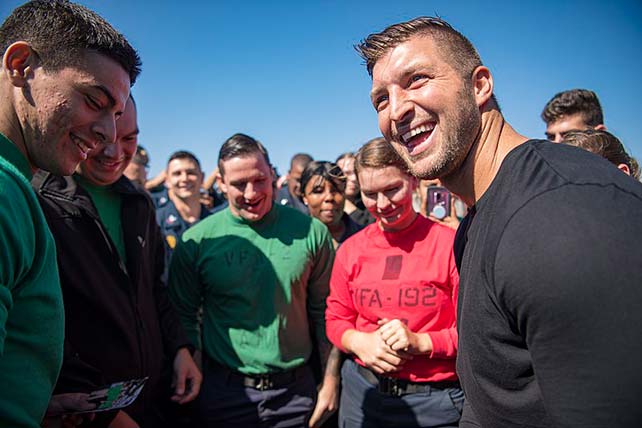 Last week (Nov. 20), ESPN sports commentator and former NFL quarterback Tim Tebow encouraged his social media followers to live to please God, not people.
Tebow, more known for his iconic pre-game prayer pose than his professional career stats, shared on Instagram that he previously struggled with trying to please people so they would like him.
"Growing up, I always wanted people to like me. I was what you would call a people pleaser," Tebow said. "Today, while I still strive to do good things for others as we all should, I've come to realize that our main audience in life isn't other people. It's God. Be motivated not by what other people think about you but by what God thinks about you!"
The recipient of 2022's K-Love Sports Impact Award has echoed similar reflections in years past, asking people whether they'd rather have people like or respect them. "From my first memories, I've been such a people pleaser," the Christian influencer said during an interview he posted in July 2020. "I like making people laugh, smile. I like making people have fun around me. I like joyful people—I want to make other people's lives better. That's just my nature. I like it, and so I want everybody to like me. What I've come to realize is, wouldn't I rather have people respect me than like me?"
RELATED: Why Are People Fine With Steph Curry's Faith but 'Hate' Tim Tebow's? Ray Comfort Answers
Tebow explained that when we have people's respect, we become more impactful in their lives.
However, he pointed out that the fear of criticism often drives people to please others. "I hate when people say bad things about me. And then a lot of times, you'll say, 'But that's not even true what they say.' And it will consume you. And if we let it, critics will consume us. And then, if we let it, will let critics change our decisions: 'I'm not going to do this because I'm afraid of what they're going to say.' And so we change what we're going to do, and we let them define our life. We can't give them the right to define our lives."
"Only God has the right to define your life, but we give critics the right to define us because we're so scared of what they're going to say. We're so scared of having people not like us. Your critics can consume you. But we can't give them the right. Only God has the right," Tebow said.