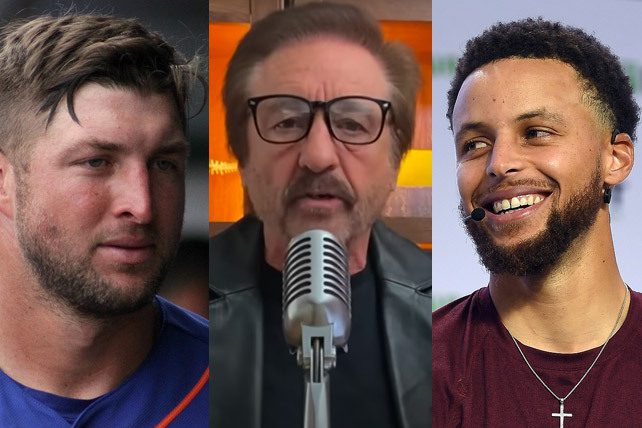 Why do people find the Christian faith of Steph Curry to be acceptable while finding the Christian faith of Tim Tebow to be polarizing? Evangelist Ray Comfort believes there is one clear reason: Tebow talks about the offensive parts of Christianity.
"There's a brand of Christianity that the whole world commends," said Comfort in a video published on Dec. 25, 2021. "It's one that speaks of being blessed by God, success, family, love, and of prayer. But it never publicly speaks of sin, righteousness, and judgment. Why is Tim Tebow so hated? Because he's not ashamed to talk about sin and the cross."
Ray Comfort on the Faith of Curry and Tebow
Ray Comfort is the founder and CEO of Living Waters, a ministry that "exists to inspire and equip Christians to fulfill the Great Commission." His video opens with a montage of clips demonstrating that people think Tim Tebow is a polarizing figure. The video references a 2018 article that asks the question, "Why Isn't Steph Curry's Religion as Polarizing as Tim Tebow's?"
Curry is a point guard for the Golden State Warriors and an NBA superstar. Tebow is a former NFL and MLB player whose achievements include winning the Heisman Trophy when he played college football. At first glance, there appears to be little difference between how the two athletes express their faith. 
Curry sometimes posts Bible verses on his social media and includes a reference to Philippians 4:13 on his Twitter profile. He publicly credits God for helping him with his success, openly talks about praying for others, and sometimes wears a wristband during games that says, "In Jesus Name I Play." 
Tebow is quite open about his Christian faith as well and also posts verses on his social media. He was well-known for putting Bible verses on his eye black during football games and for kneeling on the sidelines in prayer to God. 
Both Curry and Tebow take part in charity work. Curry and his wife, Ayesha, started the Eat.Learn.Play Foundation, which focuses on helping children in the areas of food insecurity, education, and physical activity. The Tim Tebow Foundation supports children as well, focusing on orphans, children with special needs, and children with severe medical needs. Tebow's foundation also fights human trafficking.
"It seems to be a mystery," said Comfort, regarding the division Tebow causes in contrast to Curry, who is "universally beloved, celebrated and compensated for his religious beliefs," according to the 2018 article. 
Ray Comfort Explains
People's responses to the two athletes is not a mystery, however, says Ray Comfort. The reason they elicit different reactions is that Tebow is not afraid to talk about unpopular Christian beliefs in sin, God's judgment, and our need for forgiveness. And he does this "because he cares about the fate of the lost, as should every Christian," said Comfort.