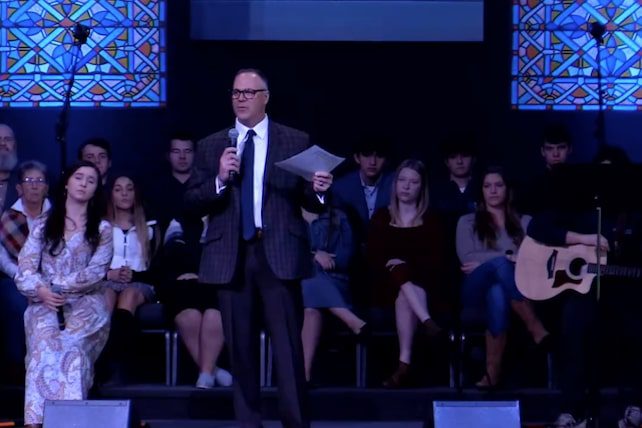 Mark Bishop, pastor of GracePointe Baptist Church in Louisville, Kentucky, told congregants on Sunday, December 4, that "the Lord obviously delivered me." Just two days earlier, Bishop accidentally slid off his roof while trying to fix a storm-damaged shingle. The 30-foot fall left him with a severe concussion but, miraculously, no broken bones or internal injuries.
While thanking worshipers for their love and support, Bishop said prayers made a huge difference. "There was some time there when it did not feel or look very good, at least from my perspective," he said. "I'm just grateful for the Lord's deliverance."
Mark Bishop: 'God Was Getting the Glory'
The fall left Pastor Mark Bishop unconscious, and he awoke while choking on vomit. Using his cell phone, he alerted his wife, who called an ambulance and started a prayer chain. Although Bishop could talk afterward, he told paramedics the year was 2003. At first the pastor "couldn't feel anything," he says, but then "two hours into it, everything started hurting."
At the hospital, doctors expected to find significant injuries, but the pastor's neck, back, and lungs were all okay. "It was pretty remarkable," says Bishop. "I have a bunch of nurses and doctors in my church, and they were saying nobody falls 30 feet without something—broken neck, a brain bleed, or worse."
Bishop, who served in the army, says his Airborne training may have kicked in as he braced for impact. But he realizes the outcome is nothing short of miraculous. "The nurse said, 'We don't know what to say. It's a miracle.' I may have been broken when I left my property, but two hours later, not anything was broken and God was getting the glory."
During a deployment in Afghanistan, the pastor had suffered two concussions, which doctors said would amplify his symptoms from this one. On social media, Bishop's wife, Kim, writs that he was "extremely disoriented" at the hospital and had "a horrible headache" but "no brain swelling or bleeds."
Pastor Returns to Work: 'This Is My Passion'
When doctors advised Pastor Mark Bishop to take several days off to rest, he pushed back. The church's big Christmas offering was scheduled for December 4; plus, he was kicking off a new sermon series. So he showed up on Sunday, just without the usual stage lights due to a lingering headache.
Bishop says he told his doctor, "This is my calling, this is my passion. If I don't go, I'll be at home wringing my hands and watching it on the screen." At the beginning of Sunday's message, he told listeners he'd "studied all week for my sermon" and was "not gonna be able to take it easy wondering what's going on" at church. "I will be much happier here for about two hours and go home than missing today," he added.