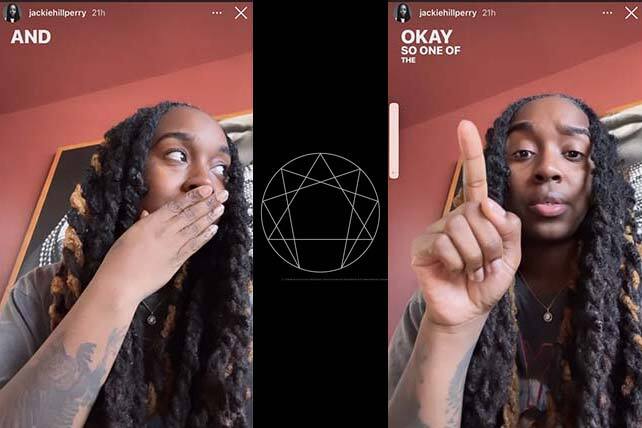 Jackie Hill Perry, Christian author, Bible teacher, and hip-hop artist, posted an Instagram story over the weekend in which she expressed that after studying the widely popular Enneagram personality profiling system, she has come to believe that it is demonic.
Though she had previously promoted the Enneagram, Perry is now warning Christians of its dangers.
"I was really skeptical and have been for some years when people were saying that the Enneagram was demonic," Hill said in the now expired story.
After the Lord prompted her to study the Enneagram for two days, the "Gay Girl Good God" author said she now believes the personality test is "evil," saying, "It ain't even funny, [because] it's like legitimately doctrines of demons, divination, witchcraft."
"I had no idea," Hill shared.
Hill admitted that she had pushed aside previous demonic warnings she had heard, because she thought some were just going "too deep" regarding particular things Christians should not participate in.
She explained that one of the originators of the Enneagram received his information through a demon named Metatron, while another who created the types in the personality test got his wisdom for the types through chant and automatic writing.
"Which is a form of channeling spirits where a demon basically guides your hand or guides your mind to help you arrive at certain ideas," Hill said.
RELATED: 'Are All Sexual Orientations Created by God?' Jackie Hill Perry Answers Preston Sprinkle at Exiles in Babylon Conference
Therefore, Hill said, when someone engages with the Enneagram and identifies with their "types," they are "literally applying to our identity to the wisdom of demons—it's literally that deep."
Hill felt a responsibility to renounce the Enneagram publicly and bring attention to what she believes to be its demonic nature, because she had spoken about it on several occasions in the past.
"Divination, witchcraft, all of this stuff," Hill said. "A lot of it centers around knowledge and being able to access information and secrets and mysteries from sources that God hasn't sanction whether that's using astrology, tarot cards, psychics, mediums, etc."
Hill believes that the temptation Adam and Eve faced in the Garden of Eden was attempting to gain knowledge reserved for God. In that account, the knowledge was sought after in the forbidden fruit. Today it is being searched for in things like the Enneagram.
Thinking that the Enneagram was a "cooler personality test," Hill previously believed that it gave her "language for who I was and what made me tick and how to understand other people apart from the Spirit."
"But I think what I'm seeing is that if these men develop this framework, from demons, then that means that we are actually choosing to understand ourselves in ways that has nothing to do with the Spirit of God," Hill said. "Why wouldn't Satan want to influence the way we understand ourselves?"
The subtleness of the Enneagram "seems good" and "like wisdom," so it can make one skeptical that it's demonic, Hill said.
RELATED: Preston and Jackie Hill Perry on How To Respond When Friends Leave Christianity
"In many of the conversations that I have with people about Enneagram, we talk about being a type more than we talk about being united in Christ," Hill went on to say. "We talk about our numbers more than we talk about being a chosen race. We talk about our wings more than we talk about being conquerors."