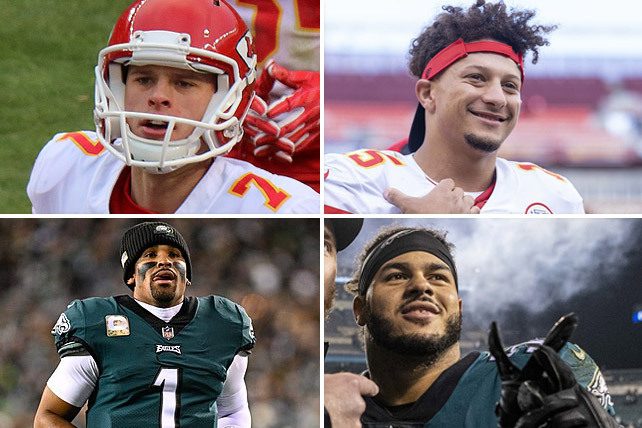 Game plans are being finalized for Super Bowl LVII, a rare matchup between two number-one seed teams. When the NFC's Philadelphia Eagles play the AFC's Kansas City Chiefs on Feb. 12 in Arizona, several outspoken Christians will be taking the field. For them, the most important game plan is following Jesus and glorifying him.
As ChurchLeaders has reported, both starting Super Bowl quarterbacks are outspoken Christians. Each team also boasts other players who prioritize faith over football.
Super Bowl LVII: 6 Athletes Who Give God the Glory
Eagles Linebacker T.J. Edwards
Edwards, a starting linebacker for Philadelphia, spoke to Sports Spectrum this week about his Christian faith. "I'm a believer, and everything I do is for him," says the 26-year-old. He describes growing closer to God and his teammates throughout the past year, partly thanks to attending Bible studies.
When asked how those weekly gatherings equip him, Edwards says the team pastor offers messages that lead to great conversations. "It helps you kind of take a step back from football and just be with God, with your family and friends," he says, "and realize there's always a bigger picture." Being at the Super Bowl is "an incredible experience," adds Edwards. "I'm just blessed to be here with these guys."
Chiefs Linebacker Nick Bolton
Bolton, a starting linebacker for Kansas City, is excited about what he considers a God-given opportunity. Though only 22, the rising star will serve as a team captain at Super Bowl LVII. When Bolton spoke to Sports Spectrum this week, he expressed "a lot of gratitude" for "how much I've grown as a person…a football player, a teammate, a follower of Christ."
Family members' health challenges have put sports into perspective for the pro athlete. Bolton's mom was diagnosed with breast cancer, and his oldest sister had a brain tumor. "They went through the pressure part," he says. "This is leisure. This is fun…so I don't feel any kind of pressure when it comes to being able to perform."
Eagles Wide Receiver A.J. Brown
Philadelphia's leading receiver was traded to the Eagles before this season kicked off. "I had plans, and God had other plans," says Brown, who admits being upset initially about the detour. The 25-year-old wide receiver tells Sports Spectrum he tries to rely on God, not on his own understanding. "I read the Bible a lot because that's how I fight my problems," he says. "I'm not trying to stand up here and be a perfect guy because I'm not; nobody is. But I just lean heavily on my faith and try to let [God] direct my paths."
Brown, who often wears his eye black in cross shapes, cites Romans 8:18 as his favorite Bible verse. He paraphases: "The pain you have been feeling cannot compare to the joy that is coming."