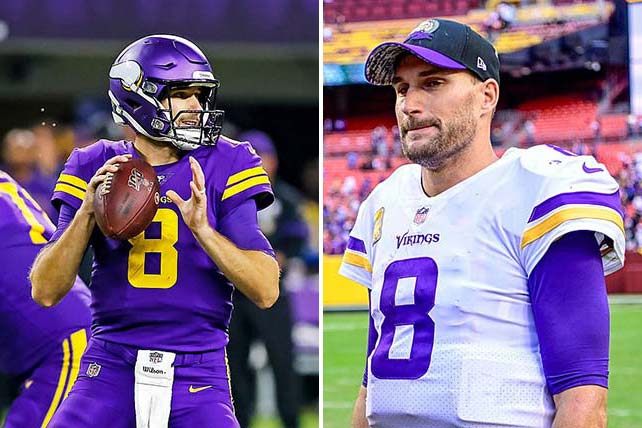 Kirk Cousins, Minnesota Vikings quarterback, pastor's kid, and devout Christian, received the Bart Starr Award during Athletes in Action's 36th annual Super Bowl Breakfast on Saturday (Feb. 11) at the Desert Ridge Marriott Resort in Phoenix, Arizona.
The award was created to honor the NFL player who displays "outstanding character and leadership in the home, on the field, and in the community." The award is named after the Hall of Fame quarterback Bart Starr, because he was an "impeccable character who has served his family and community faithfully through the years and is a role model for athletes and business people alike."
Tony Dungy and Starr's son took over the duties of handing out the award after Starr's suffered a stroke in 2015 and then later passed away at the age of 85 in 2019.
Recipients of the award have included Hall of Famers Kurt Warner, Peyton Manning, Cris Carter, and LaDainian Tomlinson and future Hall of Fame probables Eli Manning, Russell Wilson, Jason Witten, Aaron Rodgers, and Drew Brees, to name of few.
RELATED: Preacher's Kid and NFL QB Kirk Cousins Wants You To Be Aware of This As You Watch the Super Bowl
Cousins shared that of the awards he has received during his football career, "this is certainly the most meaningful largely because of who it's named after."
The 34-year-old quarterback shared about the one brief encounter he had with Starr in 2013. It was Cousins' second year in the league, and he was backing up Robert Griffin III on the then Washington Redskins. His team was taking on the Green Bay Packers at Lambeau Field during a game when they were honoring Starr.
Despite the chance he could get in trouble, Cousins ran over to the Green Bay Packers' tunnel and asked Starr, "You don't know me? I'm the backup for Washington. But I just want to say thank you. Thank you for who you are—certainly for your football career and the foundation you've laid for all of us players. But, more importantly, for who you are as a man."
"Bart Starr is the only player I've ever done that with," Cousins said. "Looking back, I believe I didn't do it because he was a great player. Many great players come back to our games to be honored. I did it because of who I understood Bart to be."
After Cousins read off Starr's remarkable career stats, he explained that "Bart's life off the field is arguably more impressive," a life that included 65 years of marriage to his high school sweetheart, starting a ranch that helped at-risk boys, and helping start the Vince Lombardi Cancer Foundation.
RELATED: Patrick Mahomes Thanks God for the Platform He's Been Given After Winning Another NFL MVP Award
"Leader, respected, humble, coachable, hard, working, persevering, faithful, loving husband, and devoted father" are all things that define Starr, Cousins said. "However, you miss something very significant about Bart Starr if you also left out the word Christian. Bart Starr was a follower of Jesus. He understood football will one day end and life will be based on much more than football. The one thing can't be taken from me is my personal relationship with Jesus."