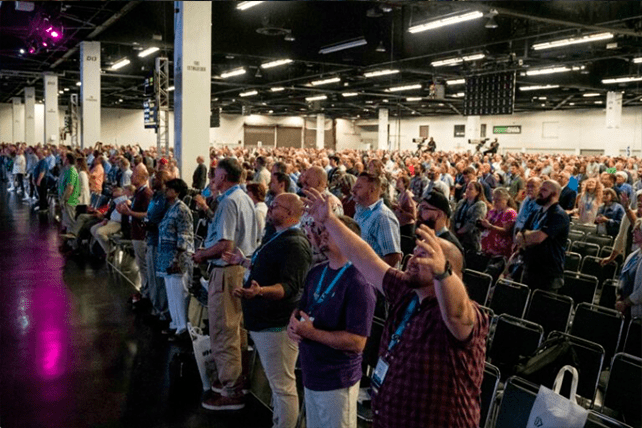 (RNS) — After years of delay, Southern Baptists passed a series of reforms in 2022 aimed at addressing abuse in the nation's largest Protestant denomination.
Those reforms included setting up a "Ministry Check" database to track abusive pastors and training churches on how to prevent abuse and to care for abuse survivors.
The plan for reforms, however, did not address who would pay for them over the long haul.
Instead, Send Relief, a partnership between the Southern Baptist Convention's International Mission Board and North American Mission Board that does compassion ministry, provided $4 million in initial funding. That will pay for setting up the Ministry Check website, which could cost as much as $2 million, according to Baptist Press, an SBC news publication.
Paul Chitwood, president of the IMB, and Kevin Ezell, president of NAMB, told Religion News Service in an email that they support the abuse reform and that the Send Relief funding has been "more than adequate for the Task Force's implementation expenses to date."
"The IMB and NAMB continue to invest significant resources in doing all we can to ensure that we care for survivors of abuse and protect against abusers," Chitwood and Ezell told RNS in an email.
"That isn't going to change. We are confident Southern Baptists will continue this important work."
The question of how to pay for reforms long-term became an issue this week after the SBC's Executive Committee announced it had lost $6 million over the past fiscal year, mainly due to the cost of responding to the sex abuse crisis.
The committee's unrestricted assets, which had previously totaled just over $12.2 million, dropped by $6 million in the last fiscal year, according to a report during a committee meeting in Nashville, Tennessee, last week.
That kind of loss is "unsustainable," according to the committee's auditors.
A spokesman for the Executive Committee said most of the decline is due to short-term expenses, including the 2022 Guidepost sexual abuse investigation — which led to abuse reforms — and legal fees related to a subsequent Department of Justice investigation.
The Executive Committee has also paid the cost of implementing some abuse reforms, including a hotline to report abusers. But the Executive Committee's reserves cannot sustain those reforms and there's no current plan for funding abuse reforms long-term.