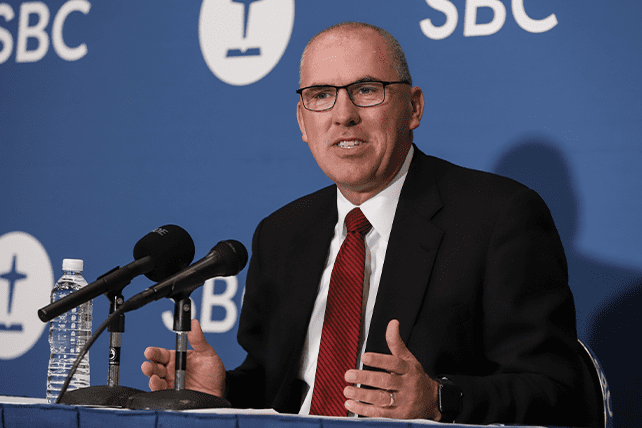 On Friday (Feb. 24), SBC President Bart Barber took to Twitter to respond to criticism regarding the latest developments in the process to reform the denomination in light of systemic failures to appropriately respond to allegations of clergy sex abuse. 
Earlier this week, the Southern Baptist Convention's Abuse Reform Implementation Task Force (ARITF) announced that the services of Guidepost Solutions had been retained for the construction of a "Ministry Check" website, which will catalog SBC pastors and leaders who have been credibly accused of sexual abuse. 
The announcement was met with a mixture of affirmation and bitter criticism. 
Guidepost Solutions is the organization that the Executive Committee had previously hired to conduct a lengthy investigation into how it handled sexual abuse allegations brought to its attention between the years 2000 and 2021. 
The investigation and subsequent report, which was published in May 2022, revealed that the SBC Executive Committee had repeatedly failed to address sexual abuse allegations across two decades, often leveraging the SBC's polity of local church autonomy to minimize legal exposure rather than support or seek justice for abuse survivors. 
Also included in the report was the shocking revelation that long-time pastor and denominational leader Johnny Hunt had been credibly accused of sexually assaulting the wife of a fellow pastor in 2010. Hunt was finishing his own term as SBC president at the time of the alleged assault. 
Having been released a mere month before the denomination assembled in Anaheim, California, for its June 2022 meeting, the report fueled widespread support for denominational reform, as reflected by the decision of local church delegates, called messengers, to overwhelmingly vote to implement reforms, as well as to elect denominational leaders who were vocally supportive of the same—among whom was Bart Barber. 
The reforms approved by messengers included the formation of the ARITF to oversee the creation of a database of SBC pastors and leaders who had been credibly accused of sexual abuse. 
The recommendation outlined that any leader "who has confessed [to sexual abuse] in a non-privileged setting, who has been convicted in a court of law, or who has had a civil judgment rendered against them" was considered credibly accused.
"Additionally, an independent third party who has been hired by any church or other Baptist body, may determine, by preponderance of the evidence following an inquiry, that a pastor, denominational worker, or ministry employee or volunteer is credibly accused," the recommendation went on to explain.
Nevertheless, despite overwhelming support for these reforms, which were essentially revised versions of recommendations set forth in the Guidepost Solutions report that had been refined to better reflect SBC polity and beliefs, they have not been uncontroversial.
Chief among the concerns of some SBC leaders is that roughly a week before the 2022 annual meeting in Anaheim, Guidepost Solutions tweeted an image supporting LGBTQ+ Pride month, leading some to question the firm's credibility as well as whether the SBC was morally culpable for giving their business to "LGBTQIA+ activists."