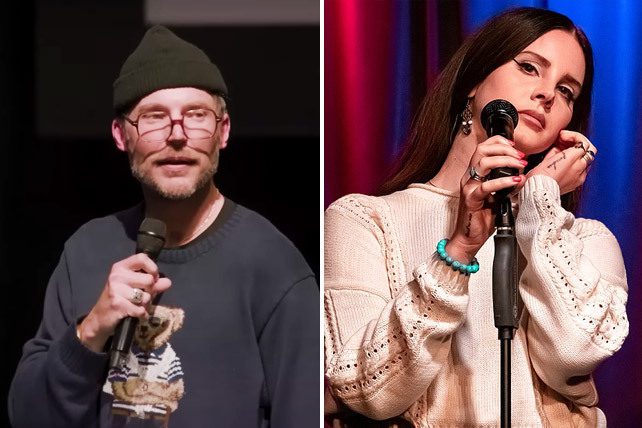 Lana Del Rey dropped her latest album, "Did you know that there's a tunnel under Ocean Blvd," today and it contains quite the unexpected track: an interlude featuring Churchome pastor Judah Smith. The track is a four-and-a-half minute long recording of Smith preaching, along with Del Rey's reactions and melancholy piano music playing over the audio.
"I used to think my preaching was mostly about you," says Smith at the end of the track. "And you're not going to like this, but I'm going to tell you the truth, I've discovered my preaching is mostly about me."
Judah Smith, who with his wife Chelsea, leads Churchome in Kirkland, Washington, is credited on the album cover, along with Lana Del Rey's other collaborators, including Father John Misty, Bleachers and Jon Batiste. [Editor's note: Lana Del Rey's music contains language some may find offensive.]
Why Is Judah Smith on Lana Del Rey's New Album?
Lana Del Rey, whose real name is Elizabeth Grant, is a singer-songwriter who released her first, self-titled album in 2010 and rose to fame after the release of her 2011 single, "Video Games." The following year, she released her second studio album, "Born to Die," which debuted in the number two spot on the Billboard 200 chart. Her single, "Young and Beautiful," was featured on the soundtrack for the 2013 film, "The Great Gatsby." Del Rey released six more studio albums prior to the release of "Ocean Blvd."
"Did you know that there's a tunnel under Ocean Blvd" continues many of the motifs that distinguish Lana Del Rey (who has called herself a "gangster Nancy Sinatra"): melancholy glamor, California, loving the wrong men, Americana, and even violence. In "A&W," the singer alludes to being raped, but says she won't testify. 
"Did you know a singer can still be / Looking like a sidepiece at 33?" she asks. "God's a charlatan, don't look back, babe…It's not about havin' someone to love me anymore (Oh, okay) / No, this is the experience of bein' an American whore."
The very next track is "Judah Smith Interlude," and while the singer no doubt has her reasons for including it on the album, the interlude is giving some of her fans whiplash with quite a few saying they plan to skip it. 
this is how i feel skipping the judah smith interlude
pic.twitter.com/iz3oxqiL3d

— hayl (@fallnalien) March 24, 2023
It is unclear where Lana Del Rey obtained her recording of Smith, although it appears to be audio she took while attending a service at Churchome. Images posted online purport to show the singer visiting the church. 
In a December 2022 letter Del Rey wrote announcing her new album, she thanks those who contributed to it, including "Judah and Chelsea Smith for giving me good guidance even when they don't know they're giving guidance and for letting me record a part of his sermon for this record." Churchome has a location in Beverly Hills and is known for attracting celebrities such Justin and Hailey Bieber. 
Judah Smith is a controversial figure to some. In June 2022, a video resurfaced showing a conversation between Judah and Chelsea Smith in which Judah said that masturbation, when done within marriage, is a "gift" from God. In August 2022, Judah Smith appeared at the Global Leadership Summit, where he gave a talk that was notable for its lack of coherence and in which he joked about sex, his church's attendance, and not preparing for his presentation.
Sex is indirectly a topic of the audio of Smith that Lana Del Rey included on her album. "Judah Smith Interlude" opens with melancholy piano music, which plays throughout. People applaud, and then Smith's voice can be heard, exhorting his congregation to "quit lusting after your neighbor. That's a heck of a life."
The pastor speaks to those who are living a "life dominated by lust" and are dissatisfied with their marriages and families, saying they should ask the Holy Spirit to help them desire what they already have. In the background, Lana Del Rey can be heard responding, "Yeah, yeah, desires for what you have."
Throughout the track, Del Rey responds and laughs at different points. She laughs when Smith makes a self-deprecating joke and laughs again when he says God spoke to him and then he adds, "I don't know if it was God, but it felt like God."