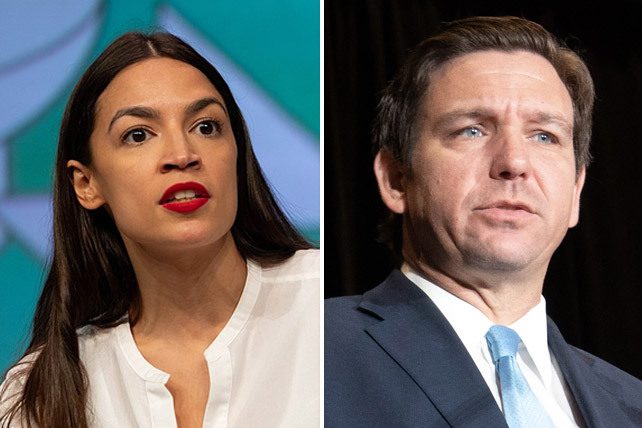 The chokehold death of a man on a New York City subway has sparked a debate about a biblical parable. On May 1, 30-year-old Jordan Neely, a man experiencing homelessness, was screaming at and threatening other passengers. That's when Daniel Penny, a 24-year-old ex-marine, put Neely in a chokehold, restraining him until he stopped breathing.
The death was ruled a homicide, and Penny was charged with second-degree manslaughter. He faces up to 15 years in prison if convicted.
Florida Gov. Ron DeSantis, who's expected to announce his presidential bid soon, has praised Penny as "a good Samaritan" for protecting people. But U.S. Congresswoman Alexandria Ocasio-Cortez (AOC), who attended Neely's funeral on Saturday, told a reporter that DeSantis "should read the Bible."
Ron DeSantis: We Can't Have 'Inmates Running the Asylum'
During a May 16 news conference, Ron DeSantis said Penny did the "right thing" by stepping in because Neely was "very dangerous" and "putting people in harm's way." The governor (and fellow veteran) said, "Vets look out for vets," and "What we can't have in our society is inmates running the asylum."
Calling Penny a good Samaritan, DeSantis said he doesn't think the 24-year-old should be prosecuted. Criticizing Manhattan District Attorney Alvin Bragg, the governor added, "When people have the temerity to fight back against the criminal element, he goes after them."
DeSantis also defended his retweet of a fundraising page for Penny. "We must…stop the Left's pro-criminal agenda, and take back the streets for law abiding citizens," DeSantis wrote. "We stand with Good Samaritans like Daniel Penny."
By contrast, the Rev. Al Sharpton characterized Penny as a killer. In his eulogy for Neely, Sharpton said, "A good Samaritan helps those in trouble; they don't choke them out." He criticized the criminalization of mental illness and New York City's neglect of people experiencing homelessness.
"He's been choked his whole life," Sharpton said of Neely, who had an extensive arrest record. Neely's family said he "experienced a mental health episode" on the subway.
AOC: DeSantis Should Read Luke 15
As she left Neely's funeral, Ocasio-Cortez was asked what she thought about DeSantis calling Penny a good Samaritan. "I think he should read a Bible," she told the reporter. In the parable, found in Luke 10:25-37, a Samaritan stops to aid a robbery victim after religious figures had passed by without helping.
After February's Super Bowl, Ocasio-Cortez criticized the Christian-themed "He Gets Us" ads, saying they "make fascism look benign."