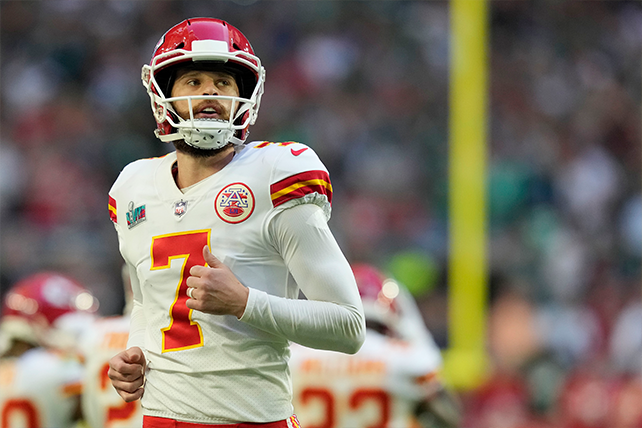 As the world-champion Kansas City Chiefs posed with President Biden at the White House on June 5, one outspoken Christian boldly declared his faith without words. For Monday's Super Bowl LVII celebration, Chiefs kicker Harrison Butker sported a gold pin of baby feet. They are the approximate size of the feet of a 10-week-old fetus.
He also wore a tie featuring the Latin phrase Vulnerari Praesidio, which means "protect the most vulnerable." The pro-life organization Live Action, which designed the tie for Butker, called it a "one-of-a-kind original."
Although the mainstream media largely ignored Butker's message, it didn't go unnoticed. Pro-life activist Anna Lulis tweeted: "This is what real masculinity looks like, courageously standing up for the most vulnerable, the preborn."
NFL Player Harrison Butker: 'Every Life Is Precious'
Butker, a devout Catholic, said he wanted to draw attention to "the forgotten of our society." The 27-year-old said in a statement, "I want to give the most vulnerable, the unborn, a voice at a place where every effort has been made to allow and normalize the tragic termination of their lives."
"As a father who has experienced three miscarriages, my wife and I understand the hardships that come with losing a child," Butker said. "Every life is precious and should be valued whether outside or inside the womb."
Live Action founder and president Lila Rose said her group was proud to partner with Butker. "President Biden is a professing Catholic who, as the most powerful man in the world, is responsible for leading the most pro-abortion administration in our history that has overseen a horrific death toll of 2,548 children every day lost to abortion," she said.
Rose called on Biden to "reject the extremism of the abortion lobby." The president's pro-abortion stance has led to debates about whether he should be denied communion in the Catholic church.
Athlete Tells Graduates To Prioritize Marriage, Family
Butker was also on the Chiefs team that won Super Bowl LIV in 2020, but players didn't visit the White House due to the pandemic. Last year, the kicker appeared in an ad for an amendment that would restrict abortion in Kansas; voters rejected the referendum.
For Butker, sports isn't his top priority. "I'm making kicks because God wants me to have a platform, at least for right now, to share this message of faith, of growing in virtue, of growing closer to the sacraments, and of being a saint," he said.
In May, Butker spoke at the commencement ceremony at Georgia Tech, his alma mater. He advised graduates to "get married and start a family," saying his most important ring is his wedding ring, not his Super Bowl rings.