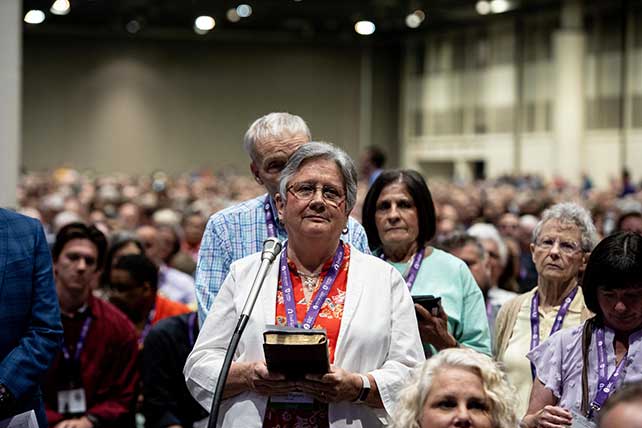 After the Southern Baptist Convention (SBC) disfellowshipped her Kentucky church for having a female pastor, Linda Barnes Popham has been doubling down on her disagreement with the denomination's interpretation of Scripture. At last week's SBC annual meeting in New Orleans, almost 92% of messengers (or local church delegates) voted to expel Fern Creek Baptist Church in Louisville, Kentucky, which Popham has officially pastored for 30 years.
Fern Creek and Saddleback, the California megachurch founded by Rick Warren, had both appealed their February expulsions from the SBC, and last week both were officially voted out of the denomination.
Also at the Annual Meeting, messengers voted to amend the SBC constitution to clarify that "only men" can serve as "any kind of pastor or elder as qualified by Scripture." That will need to be approved next year to take effect. The SBC Executive Committee has voiced opposition to the amendment, noting that similar language already appears in the Baptist Faith & Message 2000.
Fern Creek Pastor Linda Barnes Popham Asks, 'Why Now?'
On Sunday (June 18), Rev. Popham appeared on CNN, answering questions from host Jim Acosta about her reaction to the church's ouster. She admitted being "shocked" that it came 23 years after the adoption of the Baptist Faith & Message 2000. Another reaction the pastor mentioned is "anger, how this was handled, the hypocrisy of so many."
But since last week's meeting, Popham said, she also has felt "overwhelmingly loved" and has received "support from all over the world." A woman in England contacted her with a reminder that "what really matters is that we are in the family of God," Popham said. "So it doesn't really matter about the Southern Baptist Convention so much."
Moving forward, Popham said Fern Creek senses excitement and a spirit of revival, that "God's gonna do a new thing," as he promised in Isaiah. That is already happening, she added, noting that her church celebrated the baptisms of three children yesterday.
Acosta read a statement from newly re-elected SBC President Bart Barber: "We believe that every believer is a priest…it's just the Scriptures say the office of pastor is limited to men." The CNN host then said, "I wanna be respectful to folks and their faith, but it is the year 2023, for goodness sakes."
In response, Popham said her church believes the Bible as much as other Southern Baptists do. But "we believe that we interpret differently because we believe that the Spirit can give illumination to our minds."
Some of the uproar is "kind of amusing," Popham told Acosta, "because some of the [Bible] verses they read out to us [to justify men-only pastors], if you just read, like, the verse before, it says women should not have braids or adorn themselves with jewelry, etc. etc. Well, I didn't see too many women there without jewelry at the Southern Baptist Convention." The pastor added, "So how they differentiate between those two verses in the same chapter, two verses apart, I'll never understand that."
Popham, a graduate of The Southern Baptist Theological Seminary (SBTS), concluded by saying, "We look at these [Bible] verses in the context in which they were written, as well." Notably, SBTS president Dr. Albert Mohler was the person who rebutted Popham's appeal after she made it.
'They're Losing,' Pastor Says of the SBC
Popham also has described her church's expulsion as a betrayal, especially since the SBC viewed the congregation so favorably for so long. An evaluation of Fern Creek was triggered by an anonymous complaint submitted last year.