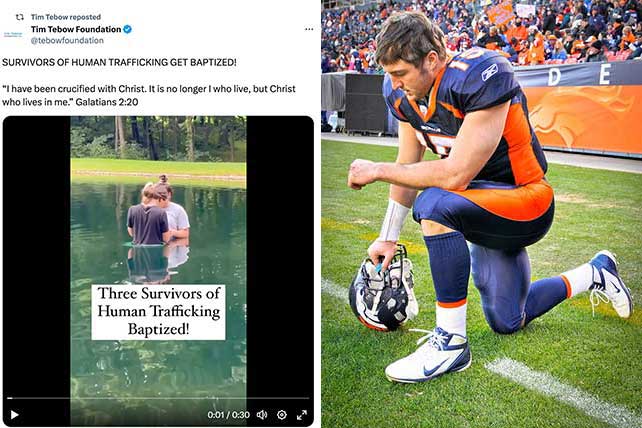 Former football star and popular ESPN college football analyst Tim Tebow shared a video Wednesday, Aug. 23, of three human trafficking survivors getting baptized.
The video, which he shared from his Tim Tebow Foundation's social media, showed a video taken by Her Song in Columbus, Ohio. Her Song is part of Tebow's foundation and helps "women who are survivors of human trafficking with residential support, programs, and spiritual growth opportunities."
Tebow showed his excitement for the baptisms by writing, "Thank you Lord!"
On its post, Her Song shared the verse, "I have been crucified with Christ. It is no longer I who live, but Christ who lives in me. – Galatians 2:20."
The video shows the women getting baptized in a pond. "The team arranged a beautiful pond baptism to celebrate these ladies as they publicly declared Jesus as their Lord and Savior," Her Song said and shared how people gathered to celebrate the women's decision. The group asked social media followers to pray for the women as they "continue their healing journeys."
SURVIVORS OF HUMAN TRAFFICKING GET BAPTIZED!

"I have been crucified with Christ. It is no longer I who live, but Christ who lives in me." Galatians 2:20 pic.twitter.com/2lKMnYGCKg

— Tim Tebow Foundation (@tebowfoundation) August 23, 2023
RELATED: Tim Tebow's Foundation Has Helped Bring Over 500 Human Trafficking Perpetrators to Justice
Last month, Tebow announced that his foundation launched a fundraiser called "unKNOWN" in honor of his 36th birthday in the hopes of raising $1 million to protect children from the horrific evil known as human trafficking.
"We have to do everything we can to continue identifying and protecting victims, caring for survivors, and working to prevent it from happening in the first place," Tebow said in a video post for his unKNOWN campaign. To date, the campaign has raised over $1.3 million.
The campaign is called "unKnown" because boys and girls all over the world are being abused and tortured and we don't know their names, Tebow explained. "Their identity is unknown."
RELATED: Tim Tebow Shares His Greatest Passion in Life Has Been Sports, Not Jesus
Tebow said that "there are over 50,000 children's images that sit in a global database." He added, "We don't know who they are, but we do know that God knows."