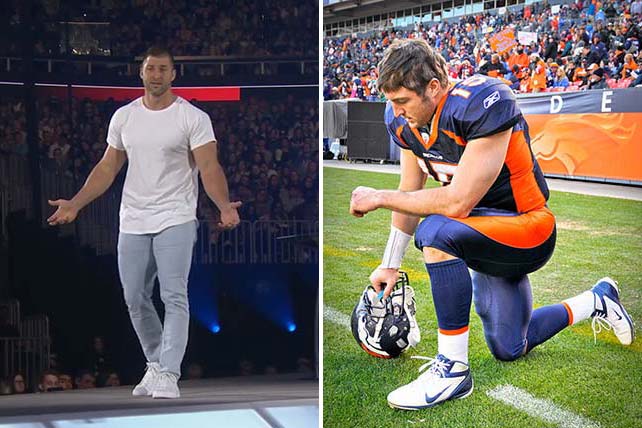 Popular ESPN college football analyst Tim Tebow was surprised during Monday night's broadcast of the College Football Playoff (CFP) championship game with an announcement that he had been elected to the College Football Hall of Fame.
"Hard to put into words right now. Just incredibly honored and grateful for the opportunity and all who helped make it possible!! All glory to God 🙌🏼," Tebow tweeted.
Tebow played his college football career at the University of Florida from 2006 to 2009, leading the team to two BCS National Championship titles (2007, 2009). Tebow was the winner of the Heisman Trophy in 2007 and was a finalist for the most outstanding player award each of his final two years of college play.
The outspoken Christian still holds records at his alma mater. In 2010, he was also the reason the NCAA created what has been referred to as "The Tebow Rule," which bans players from writing messages on their eye paint. Tebow would frequently write Bible verse references in white lettering on top of his black eye paint.
RELATED: Tim Tebow Encourages His Social Media Followers To Please God, Not People
The ban came after Tebow promoted the Bible verse John 3:16 under his eyes during the 2009 BCS National Championship game, which prompted 94 million Google searches.
Sharing that God led him to write the verse, Tebow said that "leading up to the game I was really agonizing and contemplating what verse, and God kept bringing up to my heart and my head John 3:16, which is the essence of our Christianity. It's the essence of our hope."
After his senior season at the University of Florida, Tebow was drafted by the Denver Broncos as the 25th pick in the first round. He spent his career as an NFL quarterback fighting for a starting position and attempting to compete for roster spots on the New York Jets, New England Patriots, Philadelphia Eagles, and Jacksonville Jaguars.
Following his NFL career in 2016, Tebow signed a minor league contract with the New York Mets and worked toward making it onto a major league roster before retiring in 2021.
Tebow: 'I've Given Up More in My Life To Win a Game Than I Ever Have for Jesus'
On January 5, Tebow stood before thousands of 18-25 year-olds in a crowded State Farm Arena in Atlanta, Georgia, for Passion 2023 and challenged them to make the cause of Christ their greatest passion in life.
Tebow, who was born in the Philippines on the mission field, said that a passion for the world causes Christians to not pursue their passion for the cause of Christ.
"I'll be honest and want to admit that, I think, in my life, my greatest passion so far in my life, hasn't been for Jesus. I'd say it's honestly probably been for sports," he told the crowd.