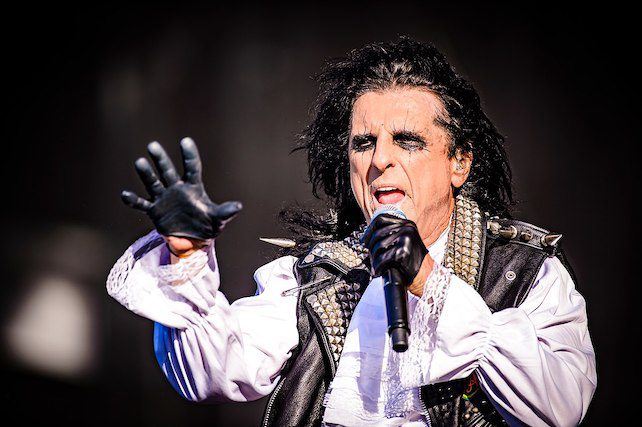 Vampyre Cosmetics has canceled its collaboration with shock rocker and Christian Alice Cooper after Cooper said that people who identify as transgender are part of a "fad." The musician also expressed concern that encouraging children and teenagers to identify as trans is "confusing" for them.
"I'm understanding that there are cases of transgender, but I'm afraid that it's also a fad, and I'm afraid there's a lot of people claiming to be this just because they want to be that," Cooper said in an Aug. 23 interview with Rachel Brodsky of Stereogum. "I find it wrong when you've got a 6-year-old kid who has no idea. He just wants to play, and you're confusing him telling him, 'Yeah, you're a boy, but you could be a girl if you want to be.'"
RELATED: Shock Rocker Alice Cooper Prays Every Day and Gives God Credit for His Sobriety
Alice Cooper: We're at 'The Point of Absurdity' 
"Alice Cooper" is the stage name of Vincent Damon Furnier, who has been called "the godfather of shock rock" for pioneering theatrical heavy metal performances influenced by vaudeville, horror, and garage rock. Cooper, whose career has spanned more than five decades, is known for singles including, "I'm Eighteen," "No More Mr. Nice Guy" and "School's Out."
Those familiar with the Alice Cooper persona know that the musician wears heavy eye makeup and costumes featuring top hats and skulls. He has also performed with a live boa constrictor around his neck. People might be surprised, therefore, to know that Cooper is a Christian who prays and reads the Bible every day. The shock rocker, who says that he is merely playing a character when he performs, credits God with enabling him to break free of his previous addictions to drugs and alcohol. 
"I never went to AA," Cooper told Page Six in 2021. "Everyone said, 'Oh you have such great willpower,' I said, 'No, God has great willpower. He took it from me.'"
Cooper shared that his father and grandfather were pastors and that his wife's (Sheryl) father was also a pastor. "I had such strong prayer for me," Cooper said. "Even the doctor said, 'This is an absolute miracle.' I said, 'Why?' They said, 'Well, you should be hiding bottles all over the house and you should be sneaking drugs.' I said, 'I have absolutely no desire for that at all.'"
RELATED: Brian 'Head' Welch: God Used My Daughter to Save Me From Drug Addiction
Cooper just released "Road," which is his 29th studio album, not counting albums he has made with Hollywood Vampires. On Aug. 18, he announced his partnership with Vampyre Cosmetics on his website. "This collection will exude Alice's style," said the announcement, "and feature guitar and amp shaped makeup palettes, microphone styled lipsticks, and a major highlight for Alice Cooper and makeup fans to look forward to is a new version of Alice Cooper's iconic Whiplash mascara."
However, on Aug. 24, Vampyre Cosmetics, which describes itself as "proudly women owned, disabled owned and LGBT+ owned," issued a statement saying, "In light of recent statements by Alice Cooper we will no​​​​​​​​​ longer be doing a makeup collaboration. We stand with all members of the LGBTQIA+ community and believe everyone should have access to healthcare. All pre-order sales will be refunded."