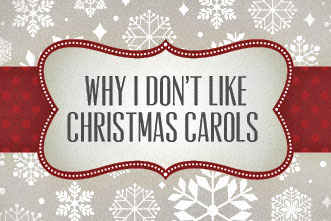 Let me say from the beginning, the problem is me, not you.
I have a heart that is two times too small. I'm a Scrooge, a Grinch you might say.
Every year around Christmas time, I find myself becoming more cynical. A permanent scowl begins to harden on my face. My nostrils tend to flare more frequently. Why?
Christmas carols. I don't like them.
And they're everywhere!
Now, I realize that I am in the serious minority here. When I tell people that I don't like the song "Mary Did You Know?", they look at me as if I've just said I like to eat kittens. But, before you write me off as a total Christmas-hating Scrooge, hear me out.
As I read through the Bible, it seems that the story of Jesus' birth has a soundtrack running behind it.
It is an epic soundtrack, a thundering soundtrack, a soundtrack of war.
Of battle.
Of great, intense conflict.
When Jesus was born, the demonic powers shuddered with fear. They knew that the king had come, and that their doom was imminent. They did all they could to stop the king. They incited Herod to slaughter baby boys. But they could not stop God's redemption plan.
Jesus' birth is the story of light breaking into darkness, of hope bursting into gloom. It is the story of sadness being undone, and the demonic rulers being overrun.
It is the story of the King of Kings becoming a lowly, grasping, nursing, crying baby. It is the story of hidden glory.
The Christmas story is the story of a great warrior coming to rescue a helpless people. It's a story of grit, and blood, and a rugged cross that awaited the newborn babe. The soft flesh of the babe would soon be punctured by nails. The smooth skin of the child would soon be ripped apart by a whip.
When I hear Christmas carols, I don't hear the grit or the struggle or the rescue. I don't hear the initial cracks and pops of Satan's skull underneath Jesus' foot. I hear the story of a little drummer boy, and a silent night that is calm and bright. I hear about a white Christmas, and the Christmas shoes.
Now, is it wrong to like Christmas carols?
Of course not! Jen loves them, including (to my chagrin), Amy Grant's Christmas album. Plus, Christmas carols often cause us to brim over with memories of Christmas past, which is good.
But as we listen to their sweet melodies, let's not forget about the glorious battle our Savior fought and won. Let's remember the grit and the glory of what our Savior has accomplished. Let's remember that the stable hung under the shadow of the cross.
Now, if you'll excuse me, I've got some beef log to eat.