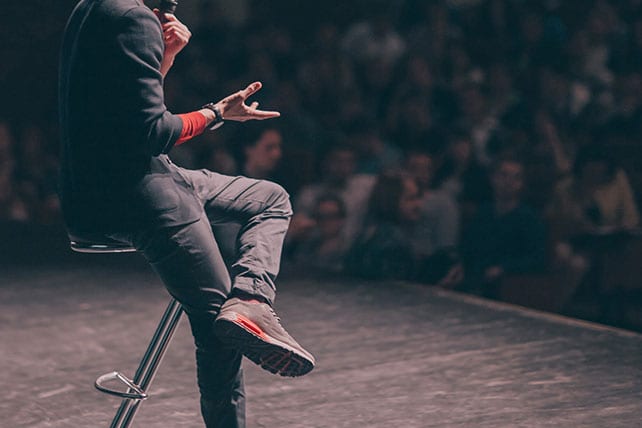 Who doesn't love a good TedTalk? It's basically a sermon to a secular audience. Since TedTalk's founding, several Christians have had the opportunity to share their views on faith and the culture at large with technology leaders. We've ranked the top seven (in no particular order) below. 
Top 7 TedTalks Given By Christians
1. Billy Graham
Billy Graham was almost 80 when he gave this TEDTalk in 1998. He told the leaders of Silicon Valley that for all of their accomplishments, they had not found answers to three problems that have plagued mankind since time began: human evil, human suffering and death.  He told the conference the answer is in the saving faith of Jesus Christ.
2. Rick Warren
The pastor and author of "A Purpose Driven Life" talks about the crisis the book brought about in his own life.  He said the book brought in "a ton of money" and unbelievable influence causing him to ask "what's the purpose of this?"  He said the experience and the Bible taught him that when we give our lives away we find significance.
3. Brene Brown
Brene Brown is described as a shame-researcher.  She studied the influence of shame on the ability to feel connection. She found that those with a strong sense of love and belonging believe they are worthy of belonging while accepting their vulnerabilities.  She also found that those who exhibit connection have the courage to be imperfect and the compassion to be kind to themselves and others. The popular video has more than 7 million views.
4. Nick Vujicic
Nick Vujicic was born without arms and legs. In this TEDTalk he says being thankful for what you have instead of complaining about what you don't is the choice that combats hopelessness.  At age 10 he considered committing suicide but faith and a knowledge that he was loved by his parents gave him hope for the future. He says those two factors can help young people today who are struggling with their identity.
5. Joshua Harris
The author of "I Kissed Dating Goodbye" talks about why he wrote the book and why he now thinks he was wrong.  He tells the TED conference how hard it is to admit that he was wrong but says the process of admitting his mistakes has helped him grow.  He also talks about the book he is now writing to correct his misconceptions about dating.
6. Brant Hansen
From twitter storms about politics to road rage the radio host and author talks about our rampage obsessed culture.  He says we should not be shocked by the actions of others, we need to give up the belief that we are always right and we must realize that our anger does not fight injustice.  He says the key to ending our rush to anger is by embracing a lifestyle of forgiveness.
7. Lecrae
The hip-hop artist talks about villains and heroes and suggests the people and actions we place in each category is subjective. Lecrae also gives listeners a history lesson in the cultural influences that have shaped hip hop's lyrics over the years. Whether you listen to hip-hop or not, his presentation will help you understand how it influences the culture (and vice-versa).