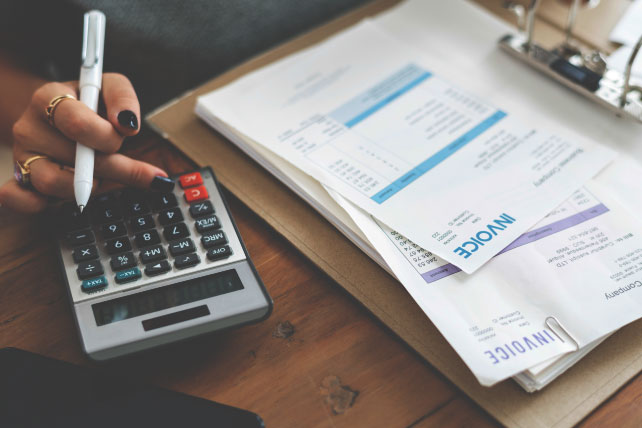 Your church budget can be a tremendous source of stress.
Some churches will meet and exceed their budgets this year. But there are far more churches (maybe yours?) who will "just get by" or who won't reach their church budget this year.
If your church is behind budget, don't lose hope.
There are many practical things you can do to get your church's budget back on track.
Behind on Your Church's Budget: 7 Steps to Get Back on Track
Below, I'm going to walk you through seven steps:
Take a deep breath
Get grounded
Identify your problem
Get your budget in alignment
Get outside help
Keep ministry alive
These tips will not resolve your church's financial situation overnight. But they will help you to move in the right direction.
So let's get started!
#1 – Take a deep breath
Here's the first step you need to take:
Don't panic!
When your church is behind on budget, it can cause a strong response of fear, anxiety and stress, which is natural to expect. But before you make any quick decisions, sit down, relax and take a deep breath. The best thing you can do at first is to get control of yourself.
Let's be honest:
Getting control in a state of fear isn't easy.
You see the numbers.
You know your church's bills don't go away.
And you notice there is a lack of donations to cover your expenses.
All of this is a recipe for a stressful situation.
But here's what you need to know:
Making big financial decisions while carrying significant stress can lead to bad decisions.
According to research on decision making, when you're under stress, your ability to make clear and informed decisions is strained. In stressful situations, it's natural to focus on yourself and your problems, which only makes things worse.
When you're behind in your budget, there's a good chance you'll have to cut expenses, rearrange budget items, and, depending on the severity of your church's finances, you may have to cut some of your staff.
These types of decisions are difficult to make, and they're even more challenging when you try to make them alone or by your "gut instinct."
Instead of reacting, it's best to respond to your church's financial situation.
Pause for a moment, and read that last sentence again.
It's the foundation for the rest of what follows.
Ready to respond to your situation and fix your church's budget?
Then you're ready to take the next step.
#2 – Get grounded
Stress can lead you to obsess over your church's finances.
Like the images of a movie with a lousy ending replaying in your head, stress can cause you to replay the worst-case scenarios over and over again.
Unfortunately, when this happens, you're only reinforcing your negative emotions, which only intensifies how they feel. In other words, you're making your stress worse. It's like pouring gasoline on an out of control fire.
Here's the deal:
You need to get grounded.
You need to confront the stress you're feeling head on—instead of hiding from it. If you avoid dealing with your anxiety, then you won't be in an ideal spot to lead your church well.
I'm not saying you have to be completely free from fear, anxiety and stress. But I am encouraging you to walk in the light (1 John 1:5-7) by being transparent with your church's leadership, your family and friends.
To help you along the way, here are some ways you can battle stress in your life:
Confession
The first step to solving any problem is to acknowledge there's a problem.
If you've succumbed to stress in your life, don't feel alone or ashamed.
Based on a poll by Gallup, eight in 10 Americans feel stress sometimes or frequently throughout the day. In your church and community, there's a large percentage of people who are battling stress to some degree.
Remember, in Christ, you are the righteousness of God (2 Cor 5:21).
In him, you are forgiven by faith—not based on how well you handled your church's finances. But based upon what Jesus has done for you.
Identify your problem.
Share what you're feeling.
And receive God's grace to empower you to move on.
Seek Jesus
Any stressful situation is a reminder of how much we need to trust in Jesus.
As a church leader, you cannot fulfill your calling without Jesus' help. When you're feeling stress over your church's finances, his call to trust in him becomes louder and more prevalent (John 14:1).
He is your rock.
He is your source of strength.
And he is your deliverer.
Regardless of your church's finances, trust in Jesus.
Meditate on God's promises
Are you having a hard time trusting Jesus?
Not sure if the Lord will help you?
To combat unbelief, you have to fight for belief.
To do this, you have to read the Bible.
I'm not saying you must spend hours on end reading the Bible every day. But I am saying it's a good idea to meditate on God's promises daily.
In short, reading the Bible leads to believing the Bible.
Here are some verses I've meditated on during stressful seasons:
"Fear not, for I am with you; be not dismayed, for I am your God; I will strengthen you, I will help you, I will uphold you with my righteous right hand."
Philippians 4:6-7:
"Do not be anxious about anything, but in everything by prayer and supplication with thanksgiving let your requests be made known to God. And the peace of God, which surpasses all understanding, will guard your hearts and your minds in Christ Jesus."
Proverbs 3:5-6:
"Trust in the Lord with all your heart, and do not lean on your own understanding. In all your ways acknowledge him, and he will make straight your paths."
Matthew 6:34:
"Therefore do not be anxious about tomorrow, for tomorrow will be anxious for itself. Sufficient for the day is its own trouble."
Ask for help
Your church's finances are also your church's problem.
You don't have to handle them alone.
If you feel overwhelmed, you're probably trying to carry this burden by yourself—not with the help of your church.
As a pastor, the "buck" does stop with you. But having responsibility for something doesn't mean you're the only one who has to handle the problem or the only source of a solution.
Don't be afraid to ask for help.
Share what's going on with your church's leadership.
Let your church know about the situation.
Not sure what to share with your church's leadership or family?
Take the time to work through the next step to clarify your problem.
#3 – Identify the problem
One essential rule for firearm safety is to identify your target.
Before firing your weapon, you need to know exactly what you're shooting. The same holds true for tackling your church's financial situation. You need to clarify the problem you have to solve.
When you fall behind on your church's budget, you need to know what's causing the problem.
Here are some questions you can ask:
Are you experiencing a decrease in giving?
Have you recently lost church members?
Have you encountered unexpected expenses?
Are you overspending in certain areas of your budget?
Did you underestimate expenses? Did you overestimate giving?
These questions will help you to start thinking through your church's financial situation.
During this process, prioritize three to five problems to solve. There's a chance you'll uncover more problems. Instead of tackling everything at once, just address a few things at first.
Now that you have a better idea about your situation, you're ready to start solving problems.
#4 – Get your budget in alignment
Alright, so your church's budget is behind, and you've identified some problems.
But how can you confirm these are real problems?
The best way to know if your church's finances are out of alignment is to compare them to a church's budget that's in alignment. Let me explain.
When creating a budget for your church, you don't have to create it from scratch.
There have been millions of church budgets created throughout history, and there is a ton of helpful advice you can glean from what others have done. By observing how churches have managed their money, you can compare your numbers to healthy benchmarks—the best practices for managing your money.
In putting together these numbers, AG Financial Solutions identified three crucial elements of your church's budget:
Personnel costs: 33-45 percent
Facility costs: 25-30 percent
Office expenses: <10 percent
As you review your church's budget, compare your expenses to these benchmarks to see how well they align with these standards.
In your budget, do your expenses for personnel, facilities and office costs fall within these ranges? Or do your costs exceed these benchmarks?
If your expenses exceed these benchmarks, then your church's finances are slowly bleeding out, which will lead your church to experience financial difficulties. If your church's budget falls within these parameters, then you're doing a good job managing your church's money.
As you address your short-term problems, also keep an eye on your church's budget to see whether or not you need to make adjustments to get back into alignment.
Now that you have an idea of what's going on, and how you can resolve your problem, it's time to get your church behind you.
#5 – Cast a vision
There's one thing people don't donate money toward:
Your budget.
Before you talk about the church's financial situation with your congregation, be prepared to talk about more than just your budget.
A small percentage of people in your church will empathize with the problem and will give toward offsetting the costs. But not everyone in your church will be motivated to pay for office expenses or just meeting your church's budget.
Here's what you need to know:
People give toward your mission—not your budget.
Let me explain…
As you talk about your church's finances, frame what you say around the mission of your church. Help people to see the kingdom work their financial contributions support.
Sure, you need help to pay the bills or fill gaps in your budget. But your church—and people in general—will not get excited about contributing to your electric bill, office supplies or a hole in your roof.
Think about it this way:
The money in your budget for personnel, facilities and office expenses is for supporting the mission of the church. This is why casting a vision is so powerful in helping your church connect the dots between their donations and your church's mission.
To connect your vision to the minds and hearts of your church, here are five practical tips you can use:
Make it specific
Tell stories
Paint pictures
Be consistent
Be everywhere
Leveraging these tips will help you to share a compelling vision with your congregation.
#6 – Get outside help
Are you and your church leadership at your wits' end?
Not sure what to do next or how to align your church's budget?
If this is you, you're not alone.
Here's the funny thing about problems:
Often, you need the help from someone on the outside—someone who can assess your situation and help you to chart a new course moving forward.
In the words of Albert Einstein:
"We cannot solve our problems with the same thinking we used when we created them."
Here's how an outside eye can help with "different" kind of thinking.
New perspective
If your church has fallen behind in its budget, then it didn't happen overnight.
To get to where you're at today, there are a series of issues that could have happened, such as:
Lack of budgeting
Poor financial planning
How to buy stocks correctly and incorrectly
Decline in attendance
Decrease in giving
Several financial setbacks
When you're in the middle of a situation that has been a gradual decline, it's difficult to see the problem for yourself. You're simply too close to the case to objectively see what's going on—and that's OK. It's a part of life.
When you invite someone from the outside to help, you are giving them an opportunity to lift the hood to your car, examine your situation and provide a new perspective—one that's not tainted by any biases.
Expert opinion
There will be times when you exhaust all of your ideas.
Don't lose hope in these moments.
Remember, you're not alone.
You can get a different insight into your situation by seeking the counsel of multiple advisors.
But don't take my word for it.
Here are several passages from the Bible confirming the importance of counsel:
Proverbs 1:5:
"Let the wise hear and increase in learning, and the one who understands obtain guidance."
Proverbs 15:22:
"Without counsel plans fail, but with many advisers they succeed."
Proverbs 18:1-2,24:
"Whoever isolates himself seeks his own desire; he breaks out against all sound judgment. A fool takes no pleasure in understanding, but only in expressing his opinion… A man of many companions may come to ruin, but there is a friend who sticks closer than a brother."
Invest in your future
Getting outside help sounds nice and all, but you're probably thinking:
Doesn't it cost money to hire a consultant?
I thought we should save money and cut expenses, right?
You might have a friend who's an expert in church finances and is willing to help you get things back on track. But if that's not your situation, then, yes, plan on forking over some dough for help.
I know this sounds counterintuitive.
But hear me out.
Getting help from an expert should be treated as an investment in your church.
Finding the right support can provide you with a ton of benefits, including:
Expedited solutions
Reduced headaches
Financial savings
Think about the last point for a moment.
What if paying an expert saved you months of struggling to get your church's finances in order?
By paying someone to help you resolve your situation, you're actually saving your church a ton of money by getting things in order sooner—not later.
Convinced you need outside support, but don't have the cash to pay an expert?
If you're having a difficult time coming up with the funds, here are four ideas to consider:
Transfer money from a different budget category
Ask a church member for a short-term loan or gift
Raise a special offering
Brainstorm creative solutions with your church's leadership
If the first three option aren't viable, I bet your church can identify a tangible solution by praying together and thinking through your situation.
#7 – Keep ministry alive
In the life of your church, you'll start and stop new ministries.
This is just life.
What works well today in making disciples, leading people to Christ, or serving your community will not always be as effective.
During a financial downturn, it's tempting to start pumping the brakes on everything or slaying sacred cows. But now's not the time to let everything fizzle out.
There are three options you need to consider:
Adapt a ministry
Stop a ministry
Start a new ministry
Before you pull a church ministry off of life-support, see if you can adapt the ministry. In other words, can you adapt the ministry's budget, reallocate funds or cut back on some activity—not all—to keep the ministry alive?
If you've assessed the ministry and decided there's no way to maintain it—even at reduced capacity—then it might be time to stop the ministry.
You may have a good financial reason to stop a ministry in your church, but you still need to move forward with care. Most people don't like change, and many people may be fond of the ministry you're about to stop.
If you decide to stop a ministry, here's a three-step process you can use to handle the situation with care: How to Stop Doing a Ministry.
This might sound crazy, but a financial downturn may be an ideal time to start a new ministry.
You see, when your church is strapped for cash, you'll be forced to think of creative ways to meet the needs of people, reach out to your community and make disciples. In the business world, this is what's called guerrilla marketing—promotion with little to no money.
To help you start a new ministry from scratch, here's a step-by-step plan you can follow to building a new ministry.
Getting your church's budget in order
So there you have it.
The seven steps to getting your church's budget back on track when you're behind:
Take a deep breath
Get grounded
Identify your problem
Get your budget in alignment
Cast a vision
Get outside help
Keep ministry alive
Remember, to get your church's budget in order, first start with yourself. I know this might sound trite and what you don't want to hear, but treat this situation as an opportunity to draw closer to Jesus and further the mission of your church.
The original article appeared here.