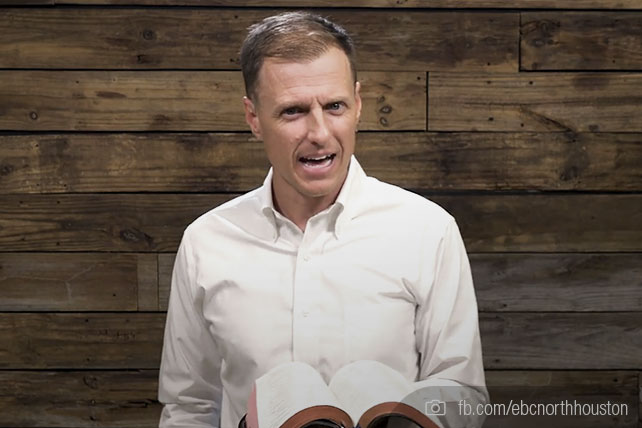 Death is so hard. It is especially hard when it is a young father like John Powell who passes away. And with such a lack of godly courageous men in pulpits around the world, it is even more tragic to hear about the death of a faithful Gospel preaching pastor.
That's why it's so sad to hear of the death of John Powell. He died, after being hit by a truck, while attempting to rescue people stranded in the middle of a highway. He left behind his wife and four young children.
He was on his way to pick up an old truck that he was going to fix up with his boys as a project, when he saw a car, in clear difficulty, that had stopped in the middle of the highway. As he stopped to help and try to pull people out of danger, a truck came by and stuck him and killed him on the spot.
It is so hard to know the mind of God in the midst of situations like these. John Powell was church planting. He was zealous to make disciples. He was well thought of by people I know, and he was a man who, by all accounts, loved his family and loved the lost.
Why would God take him?
While we can't know the mind of God and all He is doing in situations like these, we can know how to respond to difficulties in life.
Life is hard, and we're all going to die. Because life is hard and because death looms on all of us, our flesh at times reacts with discouragement and depression.
It is this belief that led John Powell to preach a sermon on Psalm 77.
I find it incredible that, in the sovereignty of God, He would lead John Powell to preach a sermon that would turn out to be an instrument in helping people to deal with John's very death less than six days later. Even in this fact God is so kind.
I found the sermon extremely helpful and I thought I would share some of the insights here on the blog.
He starts off the sermon by encouraging folks who are in the midst of depression. He doesn't minimize the struggle, nor does he offer quick fixes, but I think he toes the line really well and gives people great hope.
"God opens the Bible to show you that you are not alone. If there is anything I want you to hear in this, I want you to hear that you are not alone! Not just because someone has walked through this before, but because God walks through it with them."
He wanted those struggling with depression to know that the Bible isn't silent about depression. The Bible wants to help those suffering. God doesn't want you to stay depressed. But at the same time, he wanted the skeptics, or those who never suffered of it to not minimize. "It is real!" he says. John quotes Spurgeon, who suffered from depression, as saying, 'trying to cure my depression was like trying to wrestle with the wind.'
He goes on to describe that Asaf, himself, the writer of Psalm 77, clearly struggles with depression. Though he was a monumental figure in Israel, he pens a fascinating Psalm filled with grief.
John goes on to describe two characteristics of Asaf's depression.
The first characteristic is his focus on HIMSELF:  Psalm 77:1-6.
"Did you notice where his focus is? Look at the first person pronouns!"
After retelling a story of an English teacher who encouraged him to learn first person pronouns, John retells the moment he realized that most worship songs we sing today in the church are about me, rather than God. He goes on to say,
"I see the same thing in these verses. Asaf is focused on himself. In just verse 6 alone he uses 6 different first-person personal pronouns. I said, let ME, remember MY song in the night, let ME meditate on MY heart then MY spirit made a diligent search.
"One characteristic of his depression is that when he thinks about the past, he thinks about himself as the center of it.
"Can you analyze this in your own life? And friend, you don't have to be caught in the clutches of depression to realize this about yourself. We all think about ourselves a lot. Even our thoughts about others revolve around their attitudes towards us, their thoughts about us.
"If we will meditate on it, our self-centeredness is astounding. And that's why it's so incredible that Christ laid down his life for us and spent his life serving others."
"Much of the time our depression springs from a heart hyper focused on self."
The second characteristic is that he speaks in HYPERBOLE:  Psalm 77:7-9.
John says,
"Do you know what another word for hyperbole is? A Lie! It's rounding the corners to make a point but if you're rounding corners you don't have straight lines on your hands, and when you're speaking hyperbole, you're not speaking the truth."
"As he thinks about his life, he is thinking about himself in hyperbole. This leads his to despair and despondency. It leads him to presenting a one-sided view of God, a side that isn't true."
In verse 10, Asaf changes. He stops looking to himself and instead 'starts dealing with truth, not some tainted twisted view of it.' He stops speaking in hyperbole. John goes on to say,
"When you begin to notice the characteristic of your depression the best thing to do is to speak truth to yourself, declare it to yourself! proclaim it to yourself! The weapon that you have to fight your depression is this:  Truth!"