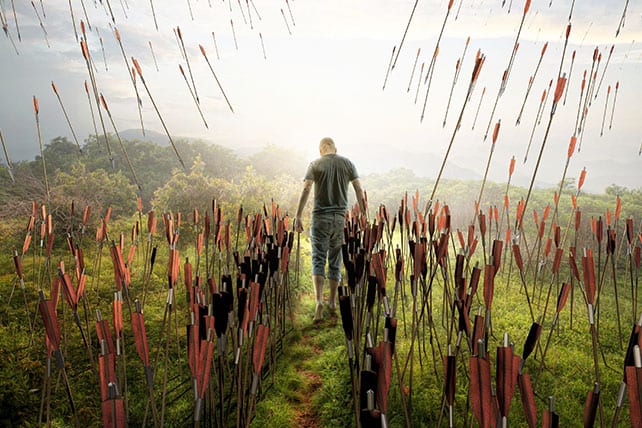 The language of Christian discipleship is charged with the vocabulary of warfare.
We contend for the faith (Jude 3), we wrestle against spiritual forces in this present darkness (Eph 6:12). We do not pull punches (1 Cor 9:26) when we beat our bodies into submission. We fight the flesh, resist temptation, and take thoughts captive.
Preachers launch a missile in the Sunday sermon, aimed at destroying sin, and we long to guide that ordinance to its desired target. This is where discipleship comes in. Preaching is the air assault; discipleship is the ground war. Pastors need to get in the trenches with their people and marshal the fight against sin.
To this aim I have developed a little method I employ to disciple young men in my church. I have shared it with other pastors, who said they found it helpful.
So, over the next couple of weeks I'll unfold what I do, making it available as an example for others who want to use it as a starting point to make their own version. Use it as is if you like, or tweak and customize it for your needs.
I think it could be effective for ladies in a "Titus 2" style relationship, or youth groups, or even parenting. I use it with married men slightly younger than myself, or at the stage in parenting a little behind my own experience.
I like to pick a name that sounds hard core. You could call it "Brothers-in-Arms" or "Band of Brothers" or "Task Unit Bruiser" if you like.
I call it Fight Club.
Who?
I usually select between 4 and 6 men, based on who I think will find it useful, will actually show up and commit, and who could duplicate the process with others in the church.
When?
After consulting with the group we select a time we can all make. It doesn't have to be convenient. Every group has chosen to do it in the early morning, usually a Saturday.
Where?
We always meet at a coffee shop. I don't want to do it at someone's home or the church. I like the symbolism that it is out in public. We are setting an example and normalizing Bible study and accountability.
What?
This is the little speech I give them on day one.
Why?
1 Tim 6:11-12  But as for you, O man of God, flee these things. Pursue righteousness, godliness, faith, love, steadfastness, gentleness. Fight the good fight of the faith. Take hold of the eternal life to which you were called and about which you made the good confession in the presence of many witnesses.
The Christian life is a fight.
It is a constant fleeing and pursuit. Fleeing temptation, worldly influence, the curse, Satan, and our own flesh. This is war. We need to be serious about fighting the enemies of godliness. Fight club is the attempt to fight our weakness as a band of brothers.
This is not a "church program." It is just a bunch of men who love the Lord and want to grow in godliness, trying to spur one another on.
Heb 10:24-25  And let us consider how to stir up one another to love and good works, not neglecting to meet together, as is the habit of some, but encouraging one another, and all the more as you see the Day drawing near.
Rules:
Invitation only. The first rule of fight club is that you do not talk about fight club. Don't talk to other men in the church about it. And don't bring a buddy along. I don't want people ticked off that they are excluded. There is a reason I selected you and not them. I want to keep it small so we can open up to each other. And one of these years, they will get their turn. Only our wives and us are privy to what we do.