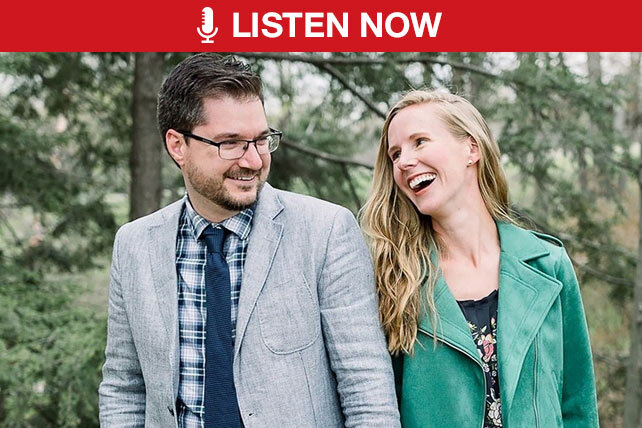 Matt and Laurie Krieg are devoted Christ-followers serving in ministry in counseling. Their marriage is unique in that they are in a mixed-orientation marriage: Both Matt and Laurie are primarily attracted to women. However, God has brought incredible healing and insight to their marriage over the years, and they serve the greater church by sharing what they have learned about how to approach sexuality with the gospel. Their latest book is entitled, An Impossible Marriage: What Our Mixed-Orientation Marriage Has Taught Us About Love and the Gospel. Matt and Laurie also co-host The Hole in My Heart Podcast and enjoy life with their three kids in Michigan.
Other Ways to Listen to this Podcast with Matt and Laurie Krieg:
► Listen on Apple 
► Listen on GooglePlay
► Listen on Spotify 
► Listen on Stitcher 
► Listen on YouTube 
Key Questions for Matt and Laurie Krieg 
-What makes your marriage unique? 
-What challenges has being in a "mixed-orientation" marriage brought?
-How does the idea of "dying to ourselves" play out in any Christian marriage?
-How do you balance finding your fulfillment in God with loving your spouse well? 
Key Quotes from Matt Krieg 
"I can pride myself on being non-emotional and being steady. But in that year [of serious marital difficulties] God was really calling me to remain in him."
"Is this something that your traditional, straight married partners have to deal with is this dying to self?…The answer is 'Yes.'"
"For me, 'steadfast' took me not looking at Laurie as my 'need-meeter' and not looking at her as the thing that would bring me completion and fulfillment because she can't—she's not created for that, but instead to look for God."
"Part of my past is wrestling and struggling with pornography addiction, and that was something I had to learn to die to myself in that space. And I'll tell you something, when all of sudden, this stuff started happening in our marriage, going back toward to look at pornography is something that was whispering to me."
"My call isn't to die to self only when Laurie is pursuing me. The call is to die to self anyway."
"If I look at porn, I'm not sinning against Laurie. I am, but primarily God, I'm sinning against you."
"How do I in my strength care for Laurie in her places of weakness and vice versa?"
"If you're not actively pursuing God together, as a couple, if you just have your own quiet times and you never really cross and talk about that with one another, it's very easy to just look at one another, and almost have like, your relationship where God is not a part of that unifying space."
"Sex is not a purely physical thing."
"The underlying assumption is that once you're married, sex will be great, and you will have this way to fulfill this need. And if it is a need, if sex is a need, then why would God have people remain single?"