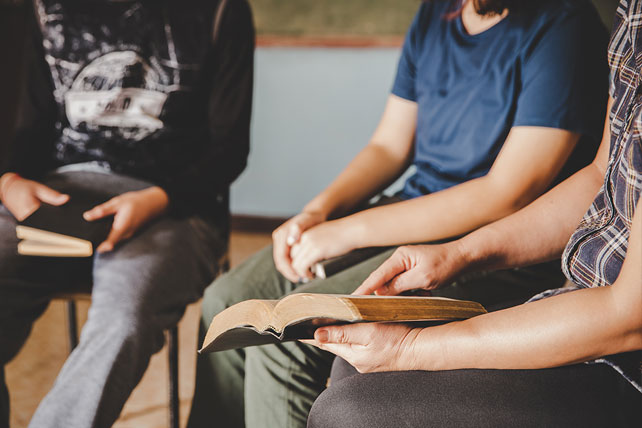 COVID separated the church. The church did not "close," because the church is a body of believers — not a building, not a service, not an institution. The church couldn't gather for in-person meetings: worship, small groups, or anything else, but the church never closed. Many small groups went to Zoom or other online platforms — synchronous or asynchronous. While many groups tolerated meeting online, some have discovered the opportunity of online groups to connect to others who are far from them and far from God. But Zoom fatigue set in quickly. I predict there's a coming small groups boom, because online groups are just not the same as in-person groups. Right now you are in an unprecedented moment.
Small Groups Are About to Boom!
People have been separated and in their houses for a long time. Of course, restrictions and attitudes vary across North America. While some churches still haven't regathered for groups or worship, I know of one church that never stopped their in-person services. I'm not judging right or wrong. I'm just saying "different" restrictions and attitudes. While this is also my first global pandemic, this is where I see things going in 2021 with small groups.
People Will Warm Up to In-Person Gatherings Gradually
While Coronavirus numbers are declining, they haven't disappeared. In most places the rate of infection is still higher than it was a year ago. While vaccine shots in arms are accelerating quickly, there is still some uncertainty, reluctance, or resistance to vaccines. Lastly, people have spent 12 months immersed in the stress and fear of a global pandemic. It will take them a while to turn things around. But there are hopeful signs.
When the President of the United States announced in his speech on March 10, 2021: "If we do this together, by July the 4th, there's a good chance you, your families and friends will be able to get together in your back yard or your neighborhood and have a cookout and a barbecue and celebrate Independence Day. That doesn't mean large events with lots of people together but it does mean small groups will be able to get together…But to get there we can't let our guard down. This fight is far from over."
Politics aside, words from the leader of the free world are powerful. These words will do much to help people overcome their fear. The President of the United States is advocating for small groups.
In the meantime, what do you do? Do you just write off the spring semester? I don't think so. This is the time to experiment. What are your people open to? How are they willing to participate in small groups? Pilot something. Gather groups of vaccinated folks. Be patient with those who are unsure. Try a new approach to online groups. If you're not sure what your people might be open to, our church-wide assessment can help you find the right direction to go.
People Will Be Gone All Summer
Once people are confident to get out, they will be almost completely gone. They will be on vacation and will enjoy weekends away. Don't be disappointed if the return to in-person worship is slow. It's slow for every church right now.
Summer isn't a great time to launch small groups anyway. You could try more social gatherings or service projects, but even then your people will be gone for the most part. That doesn't mean to avoid trying something. It just means not to expect dramatic numbers over the summer.
I'm not suggesting that you raise the white flag for summer, but your people taking a much needed break will create an even bigger fall launch. Use your summer to prepare for fall. Recruit coaches for new group leaders. Create your own video-based curriculum.
Small Groups Boom Will Be in the Fall
Your people have been apart for a long time. Their need for community is higher than ever. By fall, they will be ready for in-person small groups at a level you've probably never experienced. Barring a fourth wave of the virus, vaccine-resistant variants, or continued restrictions, people will be ready in reconnect in small groups like never before.
Are you ready? How will you make the most of this opportunity growing out of the small groups boom? This is not the time for business as usual. This is not the time to roll out the same tired small group strategies you've used year after year that produce the same results. What are people willing to say "yes" to this fall?
Final Thoughts
We've had a year, haven't we? I hope we never have another year like this past one again. But the pain of the last 12 months is producing an unprecedented opportunity. Are you ready to make the most of that opportunity?
This article about the small groups boom originally appeared here, and is used by permission.