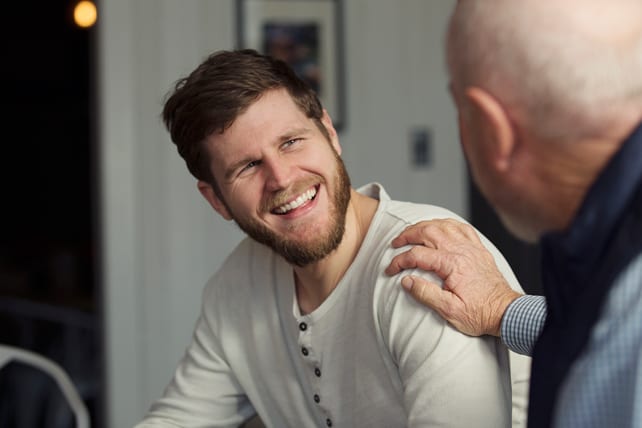 Small groups are no longer making disciples at the rate they once were. For many churches, the purpose of groups is to assimilate new people and keep them connected so they won't leave. Everyone needs to go where everybody knows their name, and they're always glad you came… But, if the purpose of small groups ends with assimilation, host homes and the church-wide campaign, then how are disciples being made? Host homes and campaigns are great to get groups going, but not so great for on-going disciple making.
Disciple Making Is Not Complex
Programs are complex. Disciple making is not. Jesus told us what we need to know to make disciples.
First, Jesus gave us the Great Commandment: "Love the Lord your God with all your heart and with all your soul and with all your mind. This is the first and greatest commandment. And the second is like it: 'Love your neighbor as yourself. All the Law and the Prophets hang on these two commandments'" (Matthew 22:37-40, NIV). Jesus boiled 613 commands down to two: Love God and love your neighbor. God is easy to love. But, neighbors, which neighbors? Look out the window.
Second, Jesus gave us the Great Compassion in Matthew 25. "Whatever you did not do for one of the least of these, you did not do for me" (Matthew 25:45). Feed hungry people. Clothe those in need. Show hospitality to strangers. Visit the prisoner. Care for the sick. Essentially, love your neighbor as yourself. See #1.
Third, Jesus gave us the Great Commission. Read this and try not to "yada, yada, yada" it. "Then Jesus came to them and said, 'All authority in heaven and on earth has been given to me. Therefore go and make disciples of all nations, baptizing them in the name of the Father and of the Son and of the Holy Spirit, and teaching them to obey everything I have commanded you. And surely I am with you always, to the very end of the age'" (Matthew 28:18-20). Jesus told us to "Go." How well are we scattering? We're pretty good at gathering. Jesus didn't say the lost should come to our seeker services. That's not working as well as it once did.
Does this seem too simple? If our lives were focused on these things, we would grow. Our people would grow. As Jim Collins says in Good to Great, "If you have more than three priorities, you don't have any."
Disciple Making Is Customized
Disciple Making relies on a system to produce disciples. When we hear the word system, we often resort to a manufacturing process, a catechism or a training program. While some of these methods might add to disciple making, there is a considerable flaw in the thinking. People don't come to us as raw materials. They aren't blank slates. They have a past. They are different—genders, races, backgrounds, educations, experiences, personalities, gifting, callings, opportunities, abuses, and so many other things contribute to who people are. I'm not like you. You're not like me. Yet, we are called to be like Jesus.
While we must all know basic things about the Bible and what it teaches, how we reflect more of Jesus is a different journey for all of us. I grew up in church. That's a funny statement, but we were there so often that at times it felt like we lived there. I learned all of the Bible stories in Sunday school. Our church was more of the Arminian persuasion, so I've gone to the altar more than 100 times to make sure I was saved. I called this eternal insecurity.
I learned to live by a code of conduct which included no smoking, no alcohol, no dancing, no movies, no playing cards, and the list went on. In my church we couldn't belly up to the bar, but we could belly up to the buffet. That's how we got the bellies!
In a holiness tradition, there is a fine line between setting yourself apart for God and becoming legalistic. Legalism defined the don'ts for me, but not all of the don'ts. The don'ts seemed more significant than the do's. But, if I lived better than other people, then God would bless me. The others got what they deserved. I didn't need to understand people from other backgrounds. They were sinners. They were going to hell. There wasn't a lot of love going around.
Now, put me in your church. How could you help me become more like Jesus? How can I learn to love my neighbor as myself? How can I see people who are different from me as people who God loves? I don't need to know more of the Bible. I know it. Bring on the Bible Jeopardy!
How would you affect my attitudes and my behavior? How could I think more like Christ? How could I act more like Christ? By the definition set in the church I grew up in, I'm a model citizen. I fit with the tribe. They're proud of me. Yet, I lack so much.