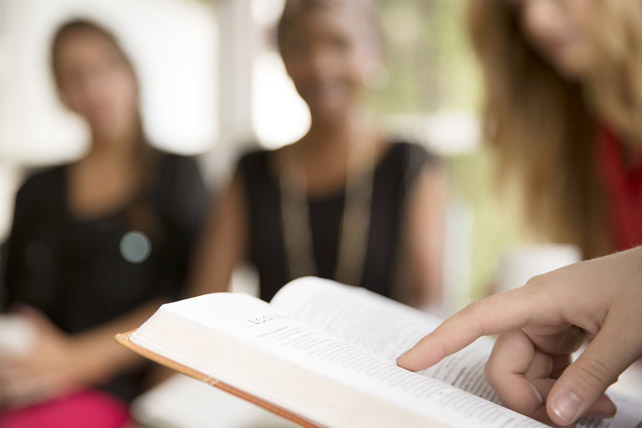 "This Is How I Small Group" is a periodic series about getting to know members of the small group. Some will have decades of experience; others will be brand new to small group ministry. Each one has a unique perspective that makes them invaluable to their church and to the small group network.
Name: Monica Lee 
Current town: Portage, Michigan  
Current church: Radiant Church (Kalamazoo, MI)
Current job title: Groups & Discipleship Pastor  
How long you've been in that role: 5 years
One word that describes how you work: Strategic 
Q. How did you come to be in your role? Share about your background.
A. My background is relatively broad: I grew up on a horse farm and showed horses nationally. I attended Michigan State University to receive my Bachelor of Science in Animal Science with a minor in pre-veterinary studies and began my career in the corporate world in veterinary pharmaceuticals. I met both Jesus and my husband as a 24-year-old and they both changed my life forever! We had a son, Gavin, and I continued as a working mom. But, as I was pregnant with my daughter, Taylor, my pharmaceutical company unexpectedly and spontaneously liquidated and closed. God knew the plan, as soon after my water broke incredibly early with my daughter (24 weeks) and after a 3-week long bedrest, she was born exactly three months early. My heart changed and I just couldn't return to work. I found myself serving my family as a stay-at-home mom. I always figured I would return to the corporate world, but during that time, the Lord called me into vocational ministry—I knew it was pastoral ministry, but I wasn't able to speak it to anyone but my husband. When both of my children were in full-time elementary school, I accepted my first position at our church: the event coordinator. A year later, I became the Executive Pastor's Assistant. Three years into that position, I thought I was leaving employment to gain my Christian Ministry certificate from Liberty University, but then was asked to come back as the Project Manager to launch our second campus. After that campus launched and my degree was complete, I was asked to join our staff as the Groups & Discipleship Pastor.
Q: What does a typical workday look like for you?
A: My day begins around 6AM with a coffee, my Bible, and prayer. After sending my two high schoolers off to school (because they still need mom), I head out to work. I start out my department's workday with team prayer, connect with our administration team to respond to their questions, and then begin my day. Truly, each day is different, but a typical week includes personal ministry meetings, strategy meetings, leader acquisition, leader equipping, discipling, leading prayer meetings, teaching at our ministry school, and vision/strategic planning. We currently have 2 campuses, a downtown prayer center (and future campus), with additional campus developments planned. Because my role operates centrally, I work closely with our campus pastors and central teams to ensure that those who call Radiant Church home are finding a sense of belonging, engaging, growing, and living out our values and mission.
Q: What about groups ministry have you been the most fulfilled by?
A: – Their group is the narrator and provides the setting—but Jesus is the hero in their story! You can argue with a lot of things in life, but you can never dispute someone's testimony/experience.
Q: What tools, apps, subscriptions, etc. are most helpful to you?
A: Logos is a trusted friend! 🙂  We also utilize RightNow Media, Zoom, basecamp, and InDesign. For apps, I love Spotify for my podcasts and music, the basecamp app, waze, and the notes app–I'm a fan of all of them.