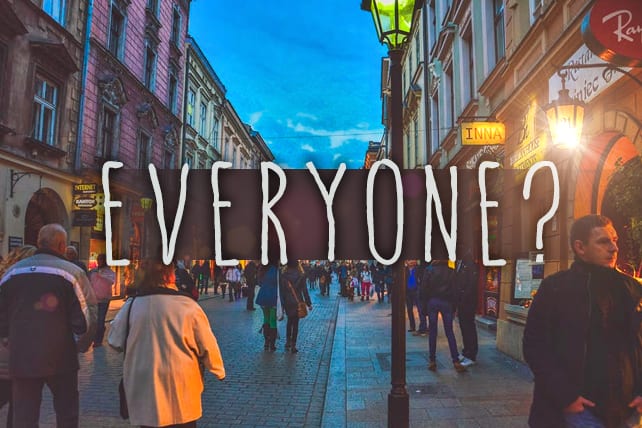 When my wife, Camille, was younger she had a mentor in a discipleship program that she was a part of. His name was Richard Moore. At the time I am writing this, he is the president and CEO of the nonprofit organization Shoulder-to-Shoulder. At the time my wife was in his discipleship program he went by the abbreviation "PR" for Pastor Richard. One of PR's most memorable lines that she shared with me is, "Have a plan that doesn't suck."
He shared this blunt maxim with his students to teach them not to tolerate low expectations for themselves. Given enough time, complacency will ultimately lead to dead ends in life. To have a plan for your life that doesn't suck, however, would guide you to live according to a vision that created the potential for growth and success.
When it comes to the discipleship model in your church I would like to borrow PR's wisdom and say the following to you, Pastor, "Have a plan that doesn't suck." When I apply this filter to my thinking, it guides me to the following conclusion: I must have a Discipleship Model that is practical and creates the potential for everyone in my church to be discipled.
Being "practical" is important to me because any strategy can work perfectly on paper. Even a complicated plan can build amazing results in theory, but it's usually incredibly difficult to put into practice. Typically, it's the simplified ideas that can be effectively implemented and mastered for optimum impact.
Potential is critical as well if we are going to have a chance at success. I have seen many churches with the goal of discipling every person in their church, but their ministry model doesn't even given them a chance to take a swing at their goal.
Here are 10 Thoughts on Practical Discipleship Models With Potential for Everyone…
1. If your goal is to disciple every single person in your church, you have to build a ministry model that creates enough room for everyone to be discipled. How many people attend your church on Sunday morning or your weekend services? Does your discipleship model have enough room for all of them? If the answer to the second question is no, you might have a discipleship plan that sucks.
You should have a discipleship model that gives you a chance to disciple every single person in your church in the next three to six months (not in three to six years). Now, I realize that a model that has room for everyone does not guarantee that everyone will be discipled, but the point is that you've created the conditions for that goal to be a legitimate possibility.
2. If you have more than one Sunday service, you do not have the ability to disciple everyone in a single mid-week gathering.
Think about it like this: If your sanctuary holds 400 people, and 800 people attend your two weekend services, you will only have the potential to disciple half the church with a single mid-week gathering. If you use round tables in the sanctuary for the mid-week gathering, you just shrank your space down to a lower than half capacity.
3. If you do not have enough classroom space for every single person in your church, you do not have the ability to disciple everyone in a Sunday school system. If your goal is to plug everyone into a Sunday school class "one day" but you don't have enough facility space to accommodate that outcome, you might have a discipleship plan that sucks (note: having enough Sunday school space for everyone in your church would include the variable of multiple slots for people to attend classes at different times).
4. If you have enough classroom space for every person in your church, but do not have enough parking for both the Sunday service and Sunday school, you do not have the ability to disciple everyone in a Sunday school system. If you have 400 people in a Sunday service and an additional 400 people in Sunday school classes at the same time, you must have a parking lot big enough for 800 people. If you're parking lot isn't big enough for everyone, it won't matter how much classroom space you have.
5. If everyone in your church cannot give you two to three hours in a single slot, you do not have the ability to disciple everyone in a Sunday school system. Different parts of the country have different social norms. In some cities, not everyone in the church may be able to offer two to three hours at a time. If that's the case, attending a service and a class in one block of time won't disciple every person in the church.
6. If you do not have enough ministries for everyone in your church, you cannot disciple everyone through task-oriented ministries. Discipling people as you work together on a kingdom activity (worship, outreach, admin projects, etc.) is a great vehicle for life transformation. If you don't create enough ministry settings for every single person, you can't make this your single magic bullet to cross the finish line.
7. If your discipleship model includes Off-Site Groups AND On-Dite Groups, they should both take everyone to the same discipleship destination. A facility/space problem can be remedied with a both/and approach to having on-site discipleship settings and off-site discipleship settings.
With that in mind, there needs to be a unified aim with the strategies or it can create an unintentional competition (see Killing the Competition That's Killing Your Small Groups by Dean Deguara). People might be confused as to which one they should join or they might think they need to join both.
It's difficult to travel together with people who are going a different direction. Connection and momentum will be severely diminished unless everyone ends up at the same objective.
8. An on-site and off-site model must have shared values and similar practices to achieve synergy and avoid silos. The way of Jesus is just as important as the what (truth and life; see John 14:6). Parallel discipleship models may have subtle differences, but they should have a large amount of common ground that develops people in a similar (and biblical) way.
This makes a ministry environment easier for people to learn and grow in because they are surrounded by consistent examples that guide them along their journey. This type of positive reinforcement is what I call synergy.
When parallel discipleship models are different, almost to the point of contradiction, it becomes difficult for everyone to work together as a body. Over time, territorial silos, defensiveness and a survival mentality begin to creep in.
9. A church's discipleship model must be digest-able. Most people have time to be involved in church programming two (in some cases three) times a week. Of course, there are people who will be involved more than that, but that is typically the exception, not the rule. We must offer a discipleship strategy that is digest-able for everyone in the church. If the weekly expectation is attending a Sunday morning service, a small group, a mid-week, an outreach and a men's or women's ministry, you will not have the ability to empower each ministry to thrive and grow. People need their church to help them focus on their spiritual growth. Unfortunately, many times a church will offer a myriad of freely-associated options that simply provide another opportunity for A.D.D. to operate in people's lives. Promotion, leadership gatherings, evaluating effectiveness and celebration will be spread too thin across too many fronts if the discipleship plan isn't digest-able.
10. The fewer leadership structures a church has, the greater conditions for excellence will there be. Infrastructure and equipping paths are critical processes that must be effective. When there is a shared and practical discipleship plan, everyone can identify and solve the systemic issues together. Everyone's best ideas and efforts get invested into one harvest field (not three). The outcome results in a greater number of healthier leaders being cultivated, raised up and released.
I believe taking the time to work on a discipleship strategy that is practical and has the potential for everyone to participate in is a discipleship plan that doesn't suck.
This article originally appeared here.