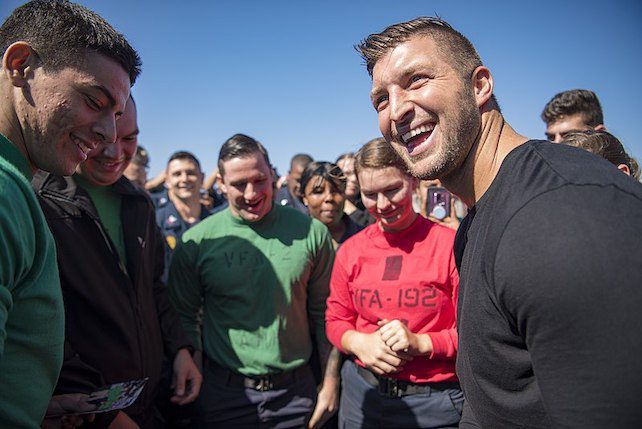 Tim Tebow revealed this week that he has used his Heisman Trophy to raise over $1 million toward charitable work, much of which has benefited children. He shared this news with former ESPN anchor Dan Patrick on the Dan Patrick Show. 
"It is such a cool award that is so prestigious that very few people have ever had the chance to be around it," said Tebow. "And you know, I'm so grateful…with all the charities we've supported, it's been able to raise well over $1 million now."
"A lot of kids are being helped with it," he told Patrick. "My goal with that is that it could be the most impactful Heisman one day."
RELATED: Tim Tebow Shares Gospel With High Security Offenders: 'It's One of My Favorite Things'
Tim Tebow's Heisman Trophy Idea
Tim Tebow is also an outspoken Christian who during his football career became known for writing Bible verses on his eye black and for kneeling on the field in prayer. In 2007, he became the first sophomore in NCAA history to win the Heisman Trophy while playing for the Florida Gators.
He went on to be an NFL quarterback for the Denver Broncos and New York Jets and later pursued a career in Minor League Baseball. In May 2021, Tebow returned to the NFL, signing with the Jacksonville Jaguars as a tight end, but was released from the team several months later in August.  
Topics that Patrick and Tebow covered include the toughest defense Tebow faced, whether his arms are bigger now than when he played football, and whether he is interested in coaching. 
At the beginning of the interview, Patrick asked Tebow which was harder to give up: football or baseball? Tebow answered that it depends "which part of the year it is. Around Thanksgiving, Christmas, it's really hard not to be playing football, and around, you know, in the middle of spring when spring training is going on, that's really difficult."