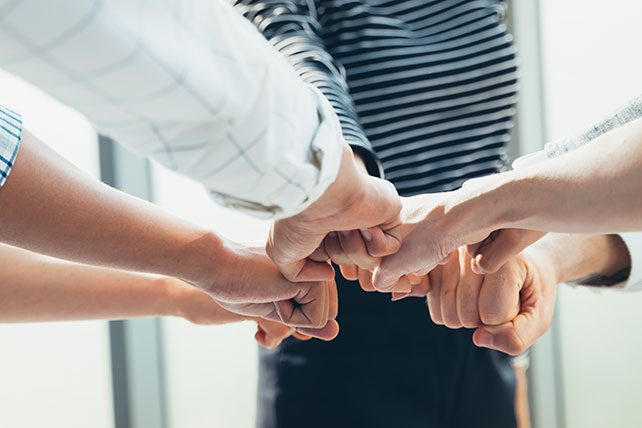 Youth ministry volunteers: For some of us, just reading that phrase strikes fear in our hearts. Others, meanwhile, have the enlisting, equipping, and encouraging process down to a science.
Regardless of where you are on this spectrum, you likely agree that youth ministry volunteers are the lifeblood of a working program. Whether they're leading a small-group Bible study or in charge of donuts, these teammates are essential. That's why getting volunteers to serve is such a vital skill.
So we want to share a few thoughts about finding and keeping these VIPs.
4 Key Points for Recruiting Youth Ministry Volunteers
1. Create a compelling "ask."
The worst thing we can do when trying to get volunteers to partner with us is to call them to a task instead of to a vision. The worst thing we can do is say something like, "Hey, I need an adult male to teach 8th-grade boys at 8:00." That's calling people to a task. That sounds like we're simply looking for a warm body. The better way to recruit youth ministry volunteers is to call them to be part of a vision or plan.
The ask is very different when we're calling someone to be part of a movement. We might say, "I've been watching you and the way you interact with your family and others. And I think you'd be great at pouring into these 8th-grade boys. They need you to invest in their lives." This is calling somebody to become part of a vision, not just a task. We're much more successful when we do this instead of just asking someone to show up and do a job.
2. Actually make the ask.
If we're not careful, without even realizing it, we may think our youth ministry is grooving along so well that people just want to come be part of it. That's the goal, for sure. We often find ourselves looking around and saying, "We don't have youth ministry volunteers because nobody's raised their hand to volunteer." It sounds elementary, but we have to remember that to get volunteers, we must ask them to get involved.
Even better, the more we can do this relationally, the better. It's easy to think an email or text can suffice. But a personal ask is often best done over coffee or lunch. Just because we can email or text doesn't mean we should. The job of youth ministry volunteers is important enough to command a personal ask.