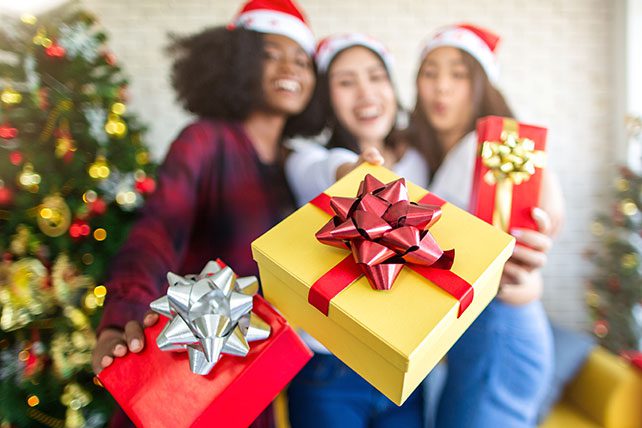 These Christmas youth group games will bring holiday cheer to any event. The birthday of Jesus Christ is something to celebrate. And what better way to celebrate than by playing fun seasonal games with teens!
These 20 games are a mixture of 100% Christmas-themed games plus Christmas twists on regular youth group games. They're all really flexible and leave room for you to be creative. Direct the theme as you will, whether it's geared toward sharing the story of baby Jesus or simply leaning on themes of snow or Christmas colors.
If you have new ideas for Christmas games and activities, we'd love to hear them. So please share in the comments below!
20 Christmas Youth Group Games & Activities
Have a jolly time playing these Christmas youth group games!
Explore multiple ways of exchanging gifts with the classic gift-exchange game of Secret Santa. It also goes by the name of Kris Kringle.
Get everyone in the zone for Christmas by practicing their gift-wrapping skills with random objects.
Christmas is all about giving. So why not encourage your youth group or family to work together to give a gift to someone else? Make cookies for neighbors or bring items to fill a box for someone in need. Whatever you do, do it together to share the gift of Jesus' love.
Teams must work together to wrap up a human-shaped present. Do it as quickly and as nicely as possible!
These four Christmas carol musical challenges are sure to bring your group some Christmas cheer!
Give this simple get-to-know-you game a Christmas vibe. Take out all the non-Christmas colored M&Ms, leaving only green and red. Even better, if you can find the special Christmas-themed M&Ms packets to buy, that works even better.
Celebrity Head Mania gets players mingling and competing to be the first to guess their secret celebrity. Turn this game into "Christmas Celebrity Head Mania" by giving the celebrities a Christmas theme.
For example, all the celebrities could be musicians who've released Christmas songs. Or they could be actors or characters who've been in Christmas movies, or just traditional characters like Santa.
One person is Santa and chooses an action for the rest of the group to follow. Santa calls out actions in a random order. Command one and two usually follow in that sequence. But Santa can insert another command to catch a player off guard.
Why not play pin the beard on Santa? Everyone knows how to play this classic kids party game. Simply draw or print a picture of a beardless Santa, as well as some beards. Then blindfold players and have them attempt to stick the beard in the correct spot on Santa's face.
Keep the laughs coming with a game of charades. But add a Christmas twist by picking out Christmas-themed scenes and characters for players to act out.