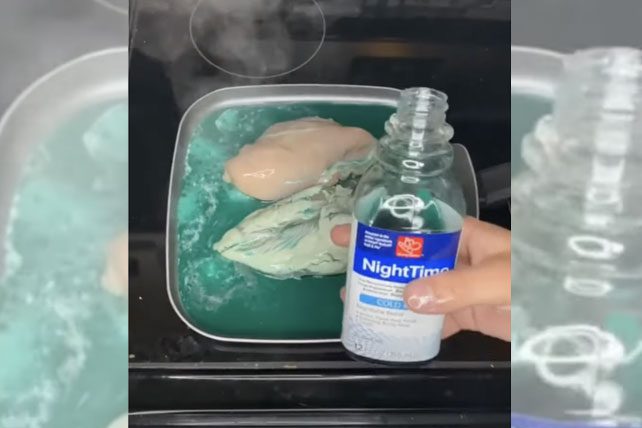 Have you heard of the sleepy chicken TikTok trend? No, it's not a wacky dance move. Instead, it's an icky-sounding recipe that recently went viral. Although questions remain about how many kids are actually concocting or sampling so-called sleepy chicken, its existence alone is dangerous.
So warn impressionable teens about the dangers of such trends. Teach kids to use discretion on social media and to avoid peer pressure in all forms. And share this information with parents to keep them in the loop about teen culture.
In a nutshell, the sleepy chicken TikTok trend involves cooking raw chicken with NyQuil cold medicine. That leads to an odd-colored result that, when ingested, makes people tired. Abusing medication this way isn't a laughing matter. In fact, the Food & Drug Administration (FDA) and the maker of NyQuil have issued warnings about sleepy chicken.
Resources About the Sleepy Chicken TikTok Trend
Check out these websites to learn more about sleepy chicken. Use TikTok challenges to discuss issues such as making good decisions, selecting good friends, building up one another, and resisting temptations.
Because NyQuil is a sedating antihistamine, it causes drowsiness. Doctors warn against abusing the over-the-counter medication. Dr. Aaron Hartman says, "When you cook cough medicine like NyQuil, you boil off the water and alcohol in it, leaving the chicken saturated with a super-concentrated amount of drugs in the meat. If you ate one of those cutlets completely cooked, it'd be as if you're actually consuming a quarter to half a bottle of NyQuil."
According to the FDA: "Boiling a medication can make it much more concentrated and change its properties in other ways. Even if you don't eat the chicken, inhaling the medication's vapors while cooking could cause high levels of the drugs to enter your body. It could also hurt your lungs."
NyQuil's maker also has issued warnings against misusing its product. Viral trends tend to reappear down the road, so it's important for teens to heed all precautions.